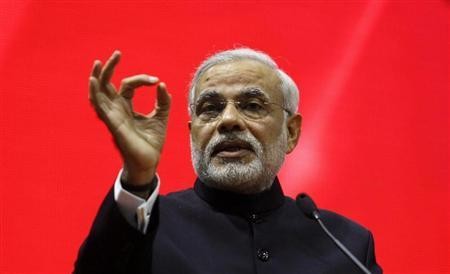 After receiving angry reactions from his followers, Gujarat Chief Minister Narendra Modi changed his tune on seer Shobhan Sarkar on Monday, praising the saint's dedication and 'renunciation' over the years.
"Since years, lakhs of people have respected Sant Shobhan Sarkar. I salute his renunciation and sacrifice," Modi, NDA's prime ministerial candidate, said on micro-blogging site Twitter.
Congress leader Bhakt Charan Das, devotee of Sarkar, had reportedly asked the Archaeological Survey of India (ASI) to act upon the saint's dream that gold worth ₹31,000 crore was buried under the fort of King Rao Ram Baksh Singh in Unnao district of Uttar Pradesh.
Last week, Modi had mocked the Congress-led Central government for its hunt for 1,000 tonnes of gold after 'someone had dreamt of it'.
Following this, Sarkar slammed Modi and NDA for its failure on several issues, "BJP has been raking up the Bofors scandal time and again. Why did not your party punish the accused when it was in power?"
Sarkar also condemned NDA for its inability to bring back black money stashed in Swiss banks, "BJP leaves no opportunity to target the present government on the issue of black money. But why did not it bring back the black money to India when NDA was in power."
Modi did not react to the allegations and, in turn, reiterated his request to the Central government on the black money, "I request the Indian government that they present a white paper regarding the black money deposited in various countries abroad to ensure the people of the nation."
Meanwhile, additional forces have been deployed at the site in Daundia Kheda village in Unnao in view of the possibility if the treasure is found.
The Ministry of Culture had said last week that a minimum of two to three weeks would be required in the excavation to reach the reported level of 5-20m beneath the fort for the treasure.