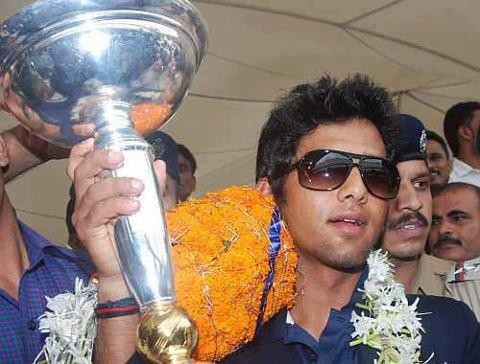 In the wake of huge upblic uproar, Delhi University on Friday allowed U-19 World Cup-winning captain Unmukt Chand to move to the second year at St. Stephen's College, Delhi, on the condition that he clears his first-year exams.
The captain of India's World Cup-winning junior cricket team was not allowed to take the B.A. second semester exams at St. Stephen's College as he did not have the minimum attendance required.
Following the uproar from various quarters, Delhi University vice-chancellor Dinesh Singh announced that he is being promoted to the second year and is permitted to clear his first year examinations in the forthcoming years.
"Unmukt has been allowed to move to second year and allowed to attempt to clear his exams during the course of the third and fourth semesters," Singh told reporters on Friday.
The college faced criticism after it refused to give admit card to the promising cricketer. Delhi University called this case as "rarest of rare".
Sports Minister Ajay Maken and the Union HRD Minister Kapil Sibal on Friday asked the Delhi University to step in and solve the problem immediately.
"I came to know (about the case) only two days back. We need to redefine education. If you look at a person like Pullela Gopichand, I have no idea what degrees he has, but I consider him more educated that someone having a doctorate degree," Singh added.
According to the bylaws of the university, a student must have at least 33.3 percent attendance in an academic session after all exemptions to appear in an exam and it also mandates that a student should pass 50 per cent of all exams in both semesters combined to be promoted. Unmukt Chand has failed to secure the prescribed attendance percentage due to cricket engagements. Chand had earlier moved Delhi High Court to sit for his exams but was late in approaching the court this time.
"Thank you St Stephens. Love my college. Thank you everyone for the support. Pappu pass ho gaya:)," Chand tweeted after his victory.