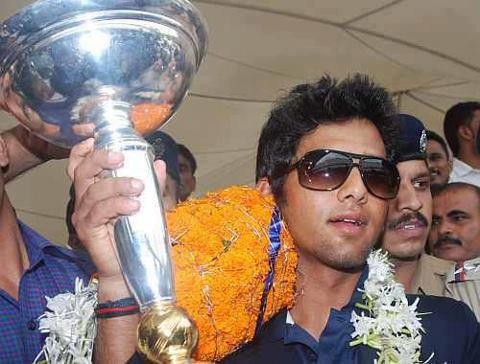 Even before the victory of U19 World Cup sinks in, captain of India's World Cup-winning junior cricket team, Unmukt Chand, has been barred from appearing for the first year BA examinations by St Stephens college in Delhi.
The young cricketer faced a huge ruckus from his college for not meeting the minimum attendance to sit for the exam, and was thus denied permission to sit for his papers.
According to the bylaws of the university, a student must have at least 33.3 percent attendance in an academic session after all exemptions to appear in an exam. The laws also mandate that a student should pass with 50 percent in all exams in both semesters combined to get promoted to the next year.
Chand failed to secure the prescribed attendance percentage due to his cricket engagements. Now it seems that the sportsperson, who brought laurel to the country, may lose one year in studies because of the rigid rules of the university.
Delhi University Vice Chancellor Dinesh Singh and Union HRD minister Kapil Sibal have stepped in to the matter and promised that the student of St Stephens College will not fail.
"I have asked St Stephen's to immediately send Chand's file. The university will take action to help him," Singh said according to The Times of India.
Chand had earlier moved the Delhi High Court to sit for his exams, but by the time the court's decision reached the college Chand had missed two papers out of four.
"I spoke to the principal who said that there is very less the college can do as they are to abide by the university rules and have no discretionary power on the matter. I have spoken to the V-C thereafter and asked him to help the boy. We have to help Chand as he has brought pride to the nation," Sibal said.
On Thursday, Sports Minister Ajay Maken said he would take up the matter to Delhi University to resolve it. "I think it's totally unfair. The University and the college authorities instead of disallowing him from exams should find a way out for such sportspersons. I don't think that this is the right way and I intend to take up the issue with the Delhi University and also with his college," he said.
Meanwhile, the college decision to bar a sportsperson from writing exams has sparked criticism, and the issue is now raised by several other sportspersons. Team India skipper Mahendra Singh Dhoni tweeted his support for Chand.
"Marks for sports takes backseat, attendance for now takes centrestage. This shows how much importance sports has in India. Sad to hear," Dhoni tweeted.