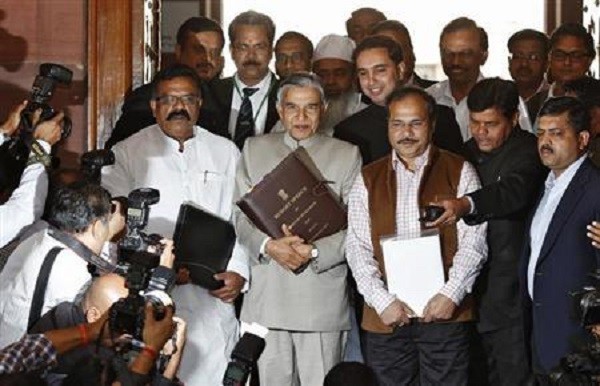 Bowing to increasing pressure from the Opposition, Railway Minister Pawan Kumar Bansal and Law Minister Ashwani Kumar were forced to resign by the Manmohan Singh government on Friday night.
Bansal was under the scanner in connection with an alleged bribery scandal involving his nephew Vijay Singla. On Friday evening, Bansal submitted his resignation after meeting Prime Minister Dr Manmohan Singh at his 7, Race Course Road residence. According to reports, Bansal was forced to quit after Congress president Sonia Gandhi met the Prime Minister at his residence. It is believed that Sonia told Singh that both the ministers - Bansal and Ashwani - should resign.
Following Bansal's resignation, Law Minister Ashwani Kumar also reportedly submitted his resignation to the Prime Minister. Kumar was under fire for allegedly tampering with the CBI's coalgate scam status report submitted to the Supreme Court.
Confirming the development after emerging from a meeting with the Prime Minister, Bansal told reporters: "I have resigned". However, Ashwani Kumar avoided the media after coming out of the PM's office, but he is believed to have submitted his resignation.
In his resignation letter, Bansal is said to have maintained that he had no involvement in the alleged scam. Ashwani Kumar said in his resignation letter that he was quitting to put an end to "unnecessary controversy" and "public perception of any wrongdoing", reported DNA.
The exit of the ministers might trigger a reshuffle in the Council of Ministers. Sonia Gandhi and the Prime Minister will likely meet on Sunday to discuss the reshuffle which is expected to happen next week.
Meanwhile, the Bharatiya Janata Party (BJP) said that the resignation of the ministers was a step taken "too late". They also demanded the resignation of the Prime Minister. "Now, there is no logic in the Prime Minister's continuance. Having decided to drop the Law Minister who was protecting the Prime Minister, then the consequences should follow. The consequence is that the Prime Minister must resign now," BJP leader LK Advani told the Press Trust of India.