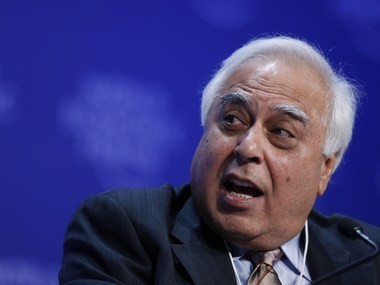 Former Union Minister of Law & Justice Kapil Sibal has turned lyricist for the upcoming Bollywood film, "Zainab".
The politician will pen 5 songs, including an item number for the film.
"Producers nowadays want item numbers. So I have penned one for this film" the Congress minister said, according to DNA.
Latest reports suggest one of the songs in the film is "Mast Mast Hawa", which has been helmed by debutant Pranav Singh.
However, this is not the first time Sibal has penned a song for a Bollywood film. He had written "Tu bata de" song for "Bandook" and had also collaborated with AR Rahman for the album, "Raunaq", in which he had written lyrics for seven songs.
The album was dedicated to the social awareness initiative, Vogue Empower, that focuses on the empowerment of women.
The politician has also expressed his desire to contribute more to the entertainment industry as cinema is one of the effective ways to create awareness among people.
"Cinema is the most effective way of creating awareness and spreading social message. Through this film I would like to convey the message of happiness, humanity and harmony," Sibal added.
The upcoming film, based on the Muzaffarnagar riots, stars Jimmy Shergill and Ashutosh Rana in the lead roles.
The film also has Turkish actress Suha Gezento, who is set to make her Bollywood debut