Union Finance Ministry Arun Jaitley will be remembered for quite some time as the person who had the guts to bring steps in the budget that had the potential to cut illegal funding for political parties. He would also be remembered as the person who promulgated the idea of electoral bonds.
Also read: Union Budget 2017 Income Tax highlights: FM Arun Jaitley gives income tax breaks to common man, but burdens high-earners
Jaitley, at the post-Budget press conference, said that he had been inspired by former US President Barack Obama when it came to putting limits on cash donation amounts. He said: "Obama took donations from people — $50 from one, $100 from another. There was no hassle because it came online. We must follow the same example."
Here are the top steps he took to ostensibly clear up political funding and bring transparency to the process:
1. Cash donations per source fixed at Rs 2,000: Jaitley said political parties can henceforth receive cash donations of only Rs 2,000 from a single source. However, there is no word on whether the source can be anonymous, because if that is the case, a lot of money can change hands and the purpose of this step is defeated.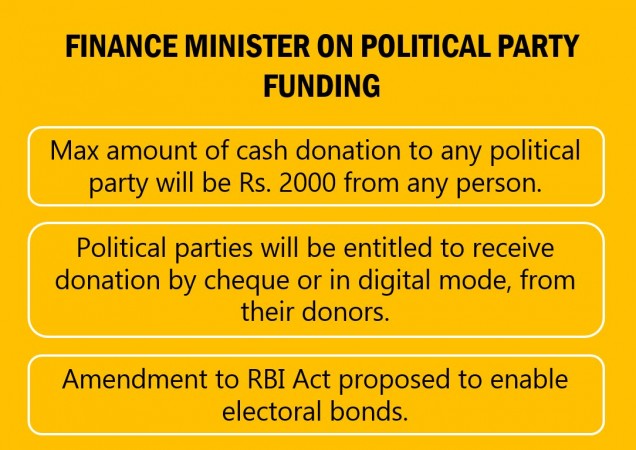 2. Donations through digital and cheques: The finance minister also said provisions would be made for political parties to receive donations through cheques and digital payments. This could help ensure transparency, as those who pay via these means can be tracked.
3. Electoral bonds: This is the step that could lead to problems. Jaitley has proposed that the Reserve Bank of India (RBI) Act be amended so that electoral bonds can be issued for political parties by the central bank. It remains to be seen how RBI will act as the issuing authority, and who are going to buy them — the political parties, their candidates or the common man?
Also, if the RBI issues the bonds, who is going to pay the interest to the bond holder? If political parties are the ones in whose name the bonds are introduced, how are they going to generate enough income to pay back these bonds and the interest on them? Also, what checks and balances will the RBI have in place to ensure that bonds are not defaulted upon?