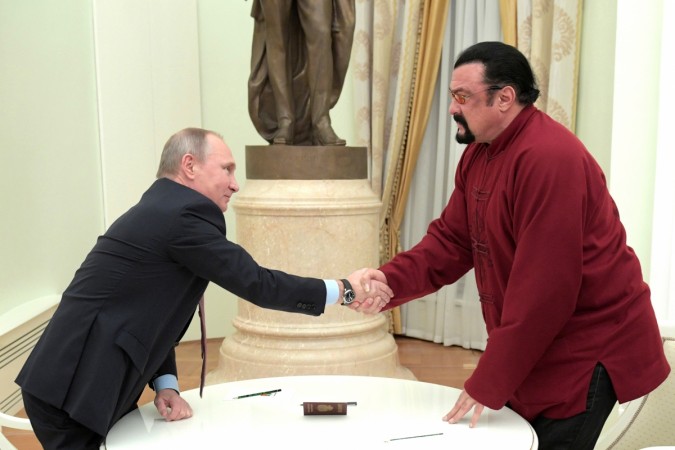 American actor Steven Frederic Seagal, popular for his role as Casey Ryback in the 1992 action-thriller film Under Siege, is now a citizen of Russia. He received his Russian passport from the country's president Vladimir V Putin during their meeting at the Kremlin in Moscow on Friday, November 25.
Putin personally handed over the passport to the 64-year-old actor and hoped it serves as a harbinger of good relations with the US. "I would like to congratulate you, and I also hope that this small step will mark the beginning of the gradual improvement in our interstate relations," Russian news agency TASS quoted president Putin as saying.
The Out For Justice actor reciprocated by thanking Putin in Russian language and said the passport was a great honour for him.
Later, Seagal clarified he had no intention of giving up his US citizenship and that seeking the Russian passport was only due to his family ties. "Dual citizenship is not abandoning my country. I love the USA. Family comes from Russia," he tweeted.
With the new passport, the Hard To Kill actor joins popular Western celebrities who have received Russian citizenship, including French actor Gerard Depardieu, American boxer Roy Jones Jr. and martial artist Jeff Monson.
Born in Michigan to a Russian Jews high school math teacher Samuel Seagal and his wife, a medical technician Patricia, the actor joined the entertainment industry in 1987 with Andrew Davis's film Above The Law. He has been part of several popular movies, including Marked For Death, On Deadly Ground, The Glimmer Man, Fire Down Below and Exit Wounds.