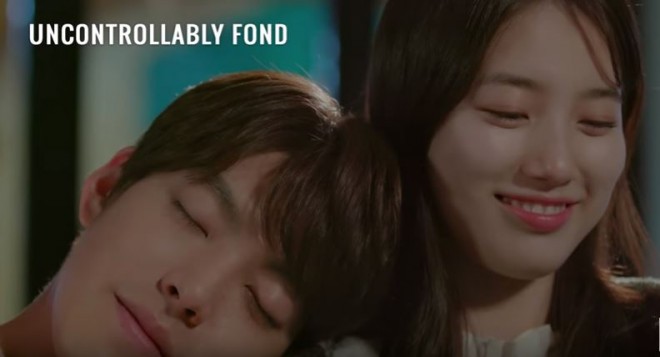 "Uncontrollably Fond," one of the most popular K-dramas ever, came to an emotional and heartbreaking end with episode 20, which was aired by KBS2 on Thursday, Sept. 8. Although Joon young's (Kim Woo bin) death was expected from the beginning of the show, fans had hoped and prayed for the writers to bring about a twist and save him. Unfortunately, though, that did not happen.
In the finale episode, we saw Joon young making peace with everything in his life. He exposed Jung eun (Lim Ju-Eun) as Eul's (Bae Suzy) father's killer and admitted to Eul that he had once tried to kill her. He was also acquitted of all the drug abuse charges and learned how passionately his fans love him.
Admittedly, this did not make it any easier for him to say goodbye to his life, but he was happy to spend his last moments in Eul's arms.
The show ended with Joon young leaning on Eul and going to sleep, as Eul tells him that she will see him the next day. This proved to be one of the most touching and emotional scenes to ever be shot for any K-drama.
It was also especially hard to see Joon young say goodbye to his mother, wherein he told her that he is honoured to be her son.
Also Read: 'Naruto Shippuden' ends with finale battle Naruto vs Sasuke
Although the drama finished airing all 20 episodes, "Uncontrollably Fond" will live in fans' memories for many years to come. Check out some of the fan reactions to the KBS 2 drama below.
You can watch all the episodes of "Uncontrollably Fond" again using Drama Fever.