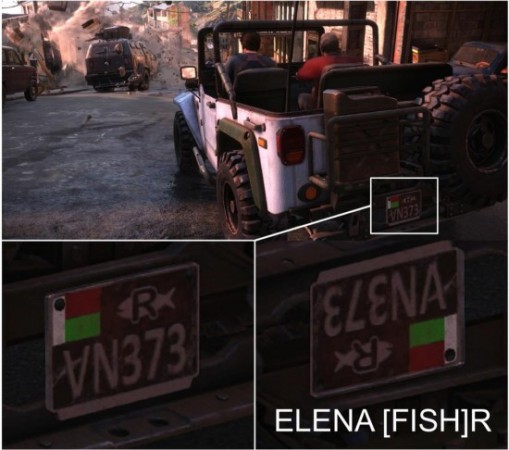 This year's E3 has been full of surprises, including high-octane announcements and colourful gameplay sessions from a number of developers. And one such title that got most of us jumping with joy was Uncharted 4: A Thief's End.
Sure, the intense gameplay trailer that was shown off on stage for Uncharted 4 successfully managed to blow our minds, but what if we told you that there's more than meets the eye? Well, as a matter of fact, if you look closely, there's an almost unnoticed Easter egg hidden well inside the game's first full gameplay trailer.
This is one of those "I suddenly saw and it was super"-kind of Easter eggs that are so easy to miss out on since they are so carefully hidden.
If you recall the jeep that Nathan and Sully were riding while they were rampaging around the town, you will definitely remember the vehicle's number plate. Apparently, the jeep's number plate, when flipped, reads "Elena". There's also a superimposed 'R' on a fish that indicates the word "Fisher".
As reports have suggested, going by whatever that was shown off for Uncharted 4 behind closed doors, Elena Fisher, Nathan's more than able journalist wife, made a serious appearance in the extended gameplay for the same. However, it seems like Elena has more "role" in Uncharted 4 than previously thought.
We are sure a host of such sly Easter eggs will be found when the original game hits the shelves, but rest assured, this one is probably the first of them.
Absolutely genius!
[Source: Twinfinite]