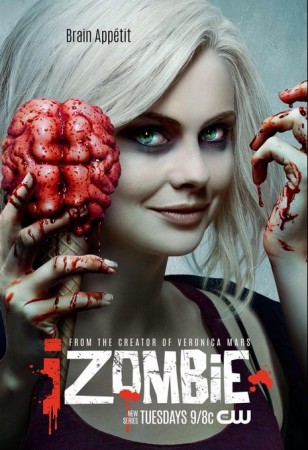 March 2015 is full of promising new shows of all kinds ranging from comedy to drama to zombies, which, with "Zombieland", "World War Z", "The Walking Dead" and "Warm Bodies", has become a genre in its own right. While the CW has "iZombie" and "Messengers", Netflix will be premiering "Unbreakable Kimmy Schmidt" and a new "Inspector Gadget" animated series. Meanwhile, FOX has "The Last Man on Earth" and abc has "Secrets & Lies" to be debuted at the mid-season premieres of 2015.
As popular shows like "Once Upon a Time" and "Revenge" make a comeback during the March mid-season premieres, abc will also be introducing a fresh new drama called "Secrets and Lies", according to TV.com. Based on the Australian television series of the same name, the Ryan Phillippe-starer would air 10 episodes in the first season, starting with "The Trail" on 1 March 2015 at 9.00 pm.
Meanwhile, CW is hoping to make Tuesdays comic-book nights, with "The Flash" airing from 8.00 to 9.00 pm, followed by the new series "iZombie". Rose McIver plays an over-achieving medical student, who turns into a partial zombie in the series scheduled to premiere on 17 March. Another series to be added in to the CW lineup is the apocalyptic drama "The Messengers", which is set to premiere on 10 April
FOX is also all set with its on apocalyptic series, "The Last Man on Earth", which is already abuzz with critical appreciation. It revolves around Phil Miller (Will Forte), who is literally the last man on earth. The SNL alum and his overgrown beard, shine as the average man - and his untamed beard -form your day-to-day life, who is roaming around the world with no one to dictate what he can and cannot do. Episode 1 of this end-of-the-world comedy will be aired on 1 March 2015 at 9.00 pm, and then be moved to 9.30 pm after "Family Guy".
FOX also has "Weird Loners", which is doomed as a reprise of "Girls", in that it follows relationship-challenged 20-somethings sharing a Queens townhouse. Zachary Knighton in "Weird Loners" premiering on 31 March and Elisha Cuthbert in "One Big Happy" premiering on 17 March on NBC, who portrayed the central couple in "Happy Endings", will be ironically pitted against each other at 9.30 pm on Tuesdays.
One of the most talked about shows set to make its debut this season is Tina Fey's "Unbreakable Kimmy Schmidt". Office alum Ellie Kemper will be starring in the new comedy revolving around a young girl who escapes from a doomsday cult and moves to New York to start her life over. The trailer for the series, which will be aired on Netflix, promises to make Fridays funnier and more eventful.