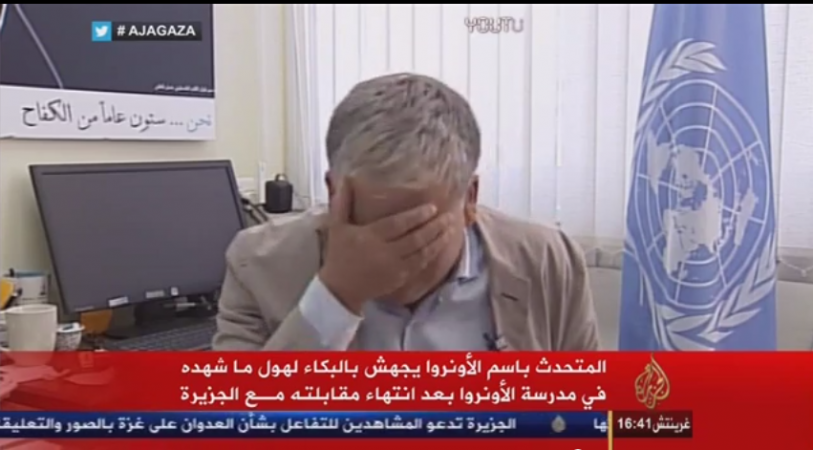 A UN official cried uncontrollably live on television while discussing the ongoing Gaza conflict and the latest attack on a school sheltering Palestinian civilians, which killed at least 16.
Chris Gunness – spokesperson for the United Nations Relief and Works Agency, which operates a number of schools and buildings to shelter Palestinian civilians – was reacting on Wednesday when yet another school was shelled.
For a brief moment, he appears to be holding back the tears, coughing and blinking hard with his face getting increasingly crimson, trying his best to maintain his professional composure.
But within moments, he bursts out crying loud, unable to control his emotions.
The incident occurred during an interview with Al-Jazeera Arabic as he described the devastating impact of the three-week-old fighting in Gaza that shows no sign of stopping.
Here is the footage showing the spokesperson breaking down live on air.
The video tends to offer a painful insight into the difficulties and emotional tolls among aid workers, especially those who are trying hard to protect the Palestinian civilians by organizing schools and buildings, designated as shelters – all of which are attacked by missiles.
Speaking to Buzzfeed after the interview went viral online, the spokesman said the agency is "completely overwhelmed" by the ongoing violence and that five of its employees had been killed for no reason in Gaza and that he had reached at a "breaking point".
"My feelings pale into insignificance compared to the enormity of the tragedy confronting each and every other person in Gaza at this time," said Gunness, "It's important to humanize the statistics and to realize that there is a human being with a heart and soul behind each statistic and that the humanity that lies behind these statistics should never be forgotten."
Later on Wednesday, a dejected Gunness said in a tweet that there are 86 houses giving shelters to 219, 657 people.
UNRWA #Gaza has opened 1 new shelter in the south so there are now 86 housing 219, 657, average shelter population is 2,554. Appaling RT

— Chris Gunness (@ChrisGunness) July 30, 2014
After the US and UN condemned the overnight ambush, Israel said its military was only responding to mortar rounds launched from near the school and refused to take a direct responsibility for the shelling of school.
The ongoing war has killed some 1,360 Palestinians, according to reports – most of them civilians.