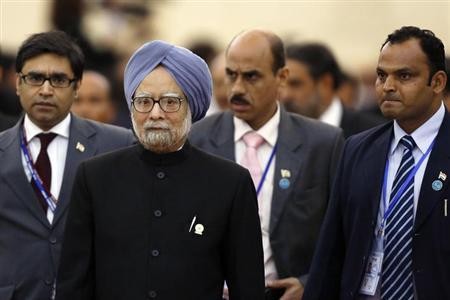 Prime Minister Manmohan Singh has called the US an important 'strategic partner', before his crucial meet with US President Barack Obama in Washington on Friday.
Singh is currently in the US to attend the 68th session of United Nations General Assembly (UNGA). Both leaders are expected to chalk out plans for enhanced economic relations between the two countries, besides bilateral and regional issues.
"The United States is one of our most important strategic partner and during President Obama's regime, we have taken several steps to widen and deepen this partnership in diverse fields. And during the present visit, we will review the progress that has been made and also what further can be done to give added meaning and content to this partnership," said Singh.
The PM is likely to discuss the issue of terrorism as well and accession to David Headley, the Lashkar terrorist convicted in the 26/11 Mumbai attacks. Another major issue likely to be tabled during the meet are the proposed changes in the US visa norms, which might hamper IT graduates from working in the US.
"The United States is one of India's most important trading partners, important provider of investment and technology support for India's development and we need the United States on our side as we move to give new added thrust to our development programmes," said Singh
The US is among the top investor countries in India. Its cumulative investment during the period April 2000-July 2013 makes it stand at the fifth spot after Mauritius, Singapore, UK, and. Japan. The cumulative FDI equity inflows by US companies till July this year are $11,492 million, as per Department of Industrial Policy and Promotion.
"We will also review the international situation particularly with reference to international economic situation and other important areas like South East Asia, Middle East and West Asia," Singh added.
A US group has asked President Obama to raise the issue of 'discriminatory policies' by India on several points, including communications technology, reported PTI.
Singh's UNGA visit assumes more significance as he is also slated to meet his Pakistani counterpart, Nawaz Sharif, on Sunday to raise the quintessential issues of border incursions and terrorism.