It looks like Harry Styles' luscious locks and other elaborate hairstyles of members of the band 'One Direction' will not go down too well with North Korean dictator.
The world's most reclusive country's leader, Kim Jong-un has apparently said that the band will not be allowed to enter into his country unless they get the haircut of the country's leader, British Tabloid Mirror reported.
The newspaper report said that the North Korean dictator has also sought to challenge 1D's position as the world's number one boy-band by launching an X Factor-style competition show to find his own band that will be dubbed as 'Un Direction.'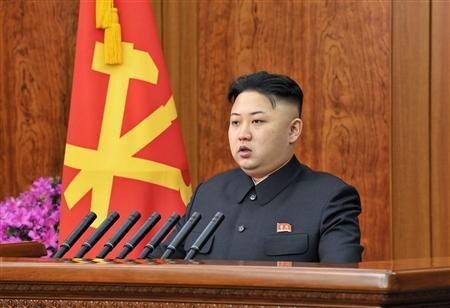 As ludicrous as it may sound, readers need to be cautioned that the news may not be really true. A tabloid's major headline that comes just on April Fool's Day should give us enough reason to take this piece with a pinch of salt. It is important to note, that what comes of a secluded country such as North Korea can never be verified, giving journalists a reason to write just anything coming from this country.
This rumor comes only a few days after it was reported that all men in North Korea were enforced to have a haircut just like their supreme leader, which has not yet been verified.
However, it will be interesting if the latest turn of events proved to be true, although it might be difficult to gain public's trust as the news comes even as many people are getting outraged seeing RIP messages posted for one of the One Direction band member Zayn Malik.
But it looks like real RIP messages for the band members will actually start appearing if ever the band ventures into the ambitious trip to North Korea.
"It might not be a voluminous as Harry Styles' famous curls, but Jong-Un doesn't want his men to look like Marilyn Monroe," The Mirror quoted one unnamed source as saying.
"There is no way One Direction will be allowed to play here without a trip to the barbers." The mystery source added.