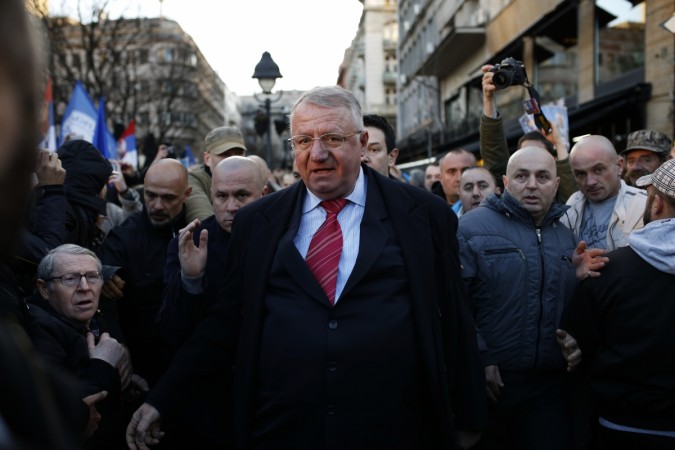 The United Nations court at The Hague acquitted former deputy prime minister of Serbia Vojislav Šešelj of all charges in connection with the Balkan Wars in the early 1990s, the BBC reported. Šešelj, who is undergoing treatment for cancer, was not present in the court when it declared the verdict.
The UN court said there was no evidence to prove Šešelj's involvement, directly or indirectly, in the Balkan Wars.
"The Chamber unanimously finds that Vojislav Šešelj is not responsible for the actual commission of expulsions and inhumane acts (forcible transfer) as crimes against humanity charged in the Indictment," according to the judgement.
"The majority simply notes that it is not satisfied that the recruitment and subsequent deployment of volunteers implies that Vojislav Šešelj knew of these crimes on the ground, or that he instructed or endorsed them," it read.
Prosecutors had charged him on nine counts, including three counts of crimes against humanity: persecutions, deportation and inhumane acts; and six of war crimes: murder, torture, cruel treatment, wanton destruction of villages, destruction or wilful damage done to institutions dedicated to religion or education, and plunder of public or private property.
Šešelj had "pleaded not guilty to all of the charges."
"This panel of judges contributed to removing the taint from the Serbian people," Reuters quoted the 61-year-old politician as saying at a news conference after the UN court acquitted him.
Flavia Lattanzi, one of the judges of court's three-judge panel, was against the acquittal. "The majority sets aside all the rules of international humanitarian law," Lattanzi wrote, adding Šešelj and his allies intimidated prosecution witnesses.
The UN court last week awarded 40 years jail term to former Bosnian Serb leader Radovan Karadžić for war crimes and crimes against humanity in connection with 11 charges, including the genocide of 8,000 Bosnian Muslims at Srebrenica in 1995.