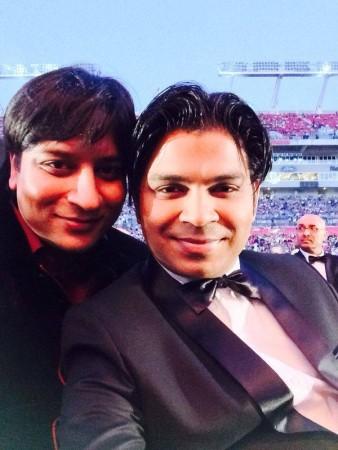 A controversy has broken out after rape-accused singer Ankit Tiwari performed last Saturday at the annual Mumbai police event that was attended by Maharashtra Chief Minister Devendra Fadnavis and Mumbai police commissioner Rakesh Maria, among others.
The event took place at the Andheri Sports Complex in Mumbai on Sunday night.
Umang was a star-studded event with Bollywood celebrities' performances. Shah Rukh Khan, Priyanka Chopra, Abhishek Bachchan, Alia Bhatt, Hrithik Roshan, Jacqueline Fernandez and others performed at the show.
But it was Tiwari's performance that triggered anger, with women's right activists and lawyers protested against it.
Women's rights activist Abha Singh said that the Mumbai police are promoting a person who has been accused of rape. She also demanded an inquiry as to how the rape-accused singer was allowed to perform at the event.
"This is highly condemnable. Mumbai Police should not have done this. It sends a wrong message. You are promoting a person involved in a crime against woman. There are so many complaints that police are insensitive towards the crimes against women. This should be taken very seriously. Inquiry needs to be ordered to check who has allowed him to attend the event. Ankit's performance should be deleted before being aired on television," Singh told Press Trust of India.
Though Fadnavis was present at the event, he left before Tiwari's performance.
When asked about Tiwari's performance, an IPS officer assured that efforts would be initiated to keep a check on the background of the performers invited to events.
"We usually avoid performance by a person facing criminal charges. We will check who invited Ankit. However, a fair investigation will be conducted into the rape charges against him," the official told Press Trust of India.
Tiwari, who shot to fame after his song "Sunn Raha Hai" from "Aashiqui 2" became popular, was arrested on rape charges last year in May. His girlfriend accused him of having raped her on several occasions on the pretext of marriage.
Tiwari's brother Ankur Tiwari was also arrested for threatening the victim with dreadful consequences if she would spoke about the assault. The brothers were later released on bail.
Meanwhile, Nagesh Mishra, Tiwari's lawyer, said that the singer had filed a writ petition in the Bombay High Court for invalidating the FIR against him. Mishra also added that Tiwari can do public performances as the police have not filed chargesheet against him.