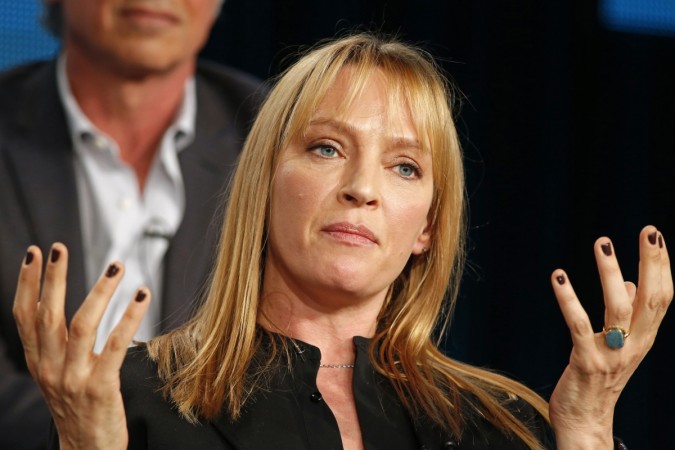 Uma Thurman shocked fans on Monday when she stepped out with a drastically changed look while promoting her upcoming mini-series "The Slap."
Her new look had many wondering if the actress went under the knife to alter her appearance, forcing Thurman to address the rumours during her appearance on "Today."
"I know I look weird!" Thurman told Savannah Guthrie on "Today." "I don't know, I guess nobody liked my makeup."
"I don't know … I mean, I've been doing this for years and years and years, and people say things nice and they say things mean … you take the good with the bad," she said.
The 44-year-old's makeup artist Troy Surratt too elaborated on the technical details of the makeup done on the actress to prove that she did not get plastic surgery done.
"We experimented with the makeup," Surratt told the style site Refinery29.com on Tuesday. "We did a much stronger brow and a bold lip for a French sort of feel. The way I shaded her eyebrows with the pencil, I created an uplifting effect. Then, I finished with a shimmering, silky-beige shadow on her lids, and went with no mascara at all."
Meanwhile, Thurman's "The Slap" aired on Thursday night to a modest a 1.1 rating among adults 18-49 and 5.1 million viewers, reported Entertainment Weekly. "The Slap" is an adaptation of a 2008 book of the same name, where friends are torn apart when a man slaps a child who is not his own.
The mini-series has been getting a lot of mixed reviews, with one reviewer pointing out that the stellar cast, which includes Peter Sarsgaard, Melissa George, Thomas Sadoski, Thandie Newton, Zachary Quinto and Brian Cox besides Thurman, can work against the show.
"Since they all play unlikable characters so well there is no one to really root for or sympathize with. So why do we care? With only eight total episodes -- each episode coming at us from a different character's point of view -- there simply isn't enough time to change our minds," the IGN review noted.