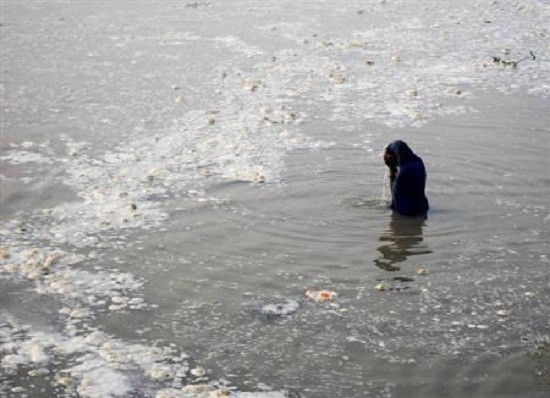 Newly appointed water resource minister Uma Bharti vowed that she will ensure river Ganga will be clean again soon.
Cleaning of the Ganges has been listed as one of the key priorities by Prime Minister Narendra Modi, who won the Lok Sabha election from Varanasi - the spiritual capital of India.
In Hinduism, the Ganges is considered sacred, and is personified as a goddess - known as Ganga. Hindus believe that bathing in the river causes remission of sins, and facilitates Moksha (liberation from the cycle of life and death) and the river is hence worshipped across the country.
Pilgrims travel long distances to immerse the ashes of their kin in the waters of the Ganges, bringing their spirits closer to Moksha.
The Ganges is the largest river in India and holds an extraordinary religious importance for Hindus. Several places which are sacred to Hindus lie along the banks of the Ganges, including Gangotri, Haridwar, Allahabad and Varanasi.
But despite all this, the Ganges is considered the sixth most polluted river in the world.
"Efforts will be made to make it clean, as pious as it was in the past with the theme 'aviral Ganga, nirmal Ganga'," Bharti told reporters in Varanasi, after taking over as the Minister of Water Resources, River Development and Ganga Rejuvenation, reported Sahara Samay.
The minister revealed that the government will develop a policy initiative for the rejuvenation of Ganga, as well as the cleaning up of other important rivers in the country.
Bharti also assured that all rivers in the country will be cleaned under the same iniative. The initiative will work towards making rivers pollution free, and making drinking water available to everyone.
It should be also noted that new PM Modi created a special ministry for rejuvenating the holy river, to show how serious he is about the cleaning drive. The department of Ganga Rejuvenation will be part of the Water Resources and River Department. Bharti was appointed its head as she had been championing the Save Ganga campaign for past several years.
Cleaning the Ganges will be an important milestone for the country, especially since the river provides water to about 40 percent of the population in 11 states. It is estimated that about 500 million people in the country are dependent on the Ganges' water.