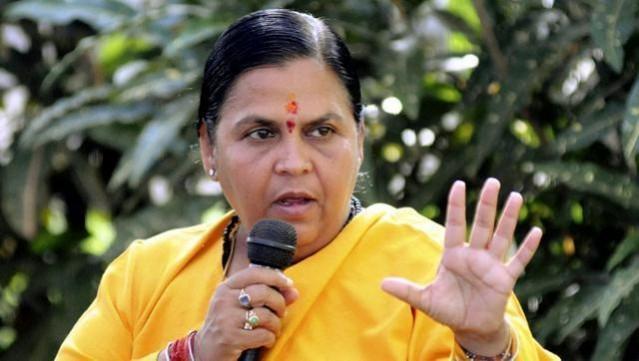 As Uttar Pradesh chief minister Yogi Aditynath is trying to appease Dalit people to vote for BJP in 2019 Lok Sabha Polls, cabinet minister Uma Bharti has said that sharing a meal with the members of the minority community is a "self-purifying act".
Bharti's statement comes just a day after her colleague Suresh Rana brought embarrassment to the BJP by eating food that was ordered from a nearby restaurant instead of the having the meal that was cooked at the house of a Dalit family.
In another incident, cabinet minister Rajendra Pratap Singh stoked controversy Tuesday after he said that "the way Lord Ram blessed Shabari, his ardent devotee, by eating her berries, BJP leaders too are blessing Dalits by going to their homes."
However, unlike Rana and Singh, Bharti is working for the saffron party's "outreach programme" to the minority community.
She even contradicted Singh's statement and said that she is not Lord Rama, who purifies others by sharing a meal with them.
"I don't go to Dalit homes. I invite them home and I serve them food at my table. I don't consider myself Lord Ram that anyone who shares meals with me becomes pure. When Dalits come to our house and eat with us, then we will be pure," NDTV quoted Bharti as saying after she skipped a said a Samajik Samrasta Bhoj (community meal) at Madhya Pradesh's Chhattarpur district on Tuesday.
She even invited people, who had gathered for the community feast, for a meal at her house in Delhi.
"I don't join community meals. I go individually or I invite Dalits home. My house will be blessed when I serve a Dalit with my hands. You come to Delhi and I will treat you to a meal (addressing the crowd)," Bharti added.
She also said that her nephew's wife will cook and her nephew will collect their used plates. "He will wash them. But I will not be able to sit with you and eat today," said Bharti.
Earlier, the CM had spent a night in a Dalit village and ate his meals at Dalit's house in his state.