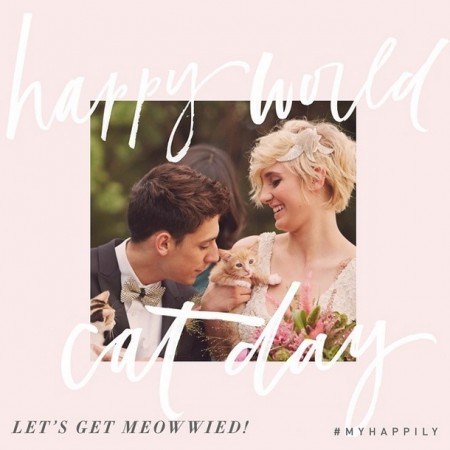 On your wedding day you want everything to be perfect - a beautiful setting, good food and most importantly, the presence of loved ones - so what if your loved ones are four-legged and "purrs" a lot. Cat Lady Kiera and Cat Man Zach got hitched on a gorgeous summer afternoon in the cutest ceremony accentuated with kitten themed party decorations and more importantly, cat-guests at The Washbow in Culver City.
Happily Wedding, a wedding planning company in California, set up this adorable cat wedding and has opened up a whole new wedding trend in the market. For this kitten themed party, they created an atmosphere that came closest to a cat lover's paradise, complete with cat cake toppers, a "glitter box", cat-themed seating arrangements, stationary marked "furrever" and puns only a cat lover can appreciate.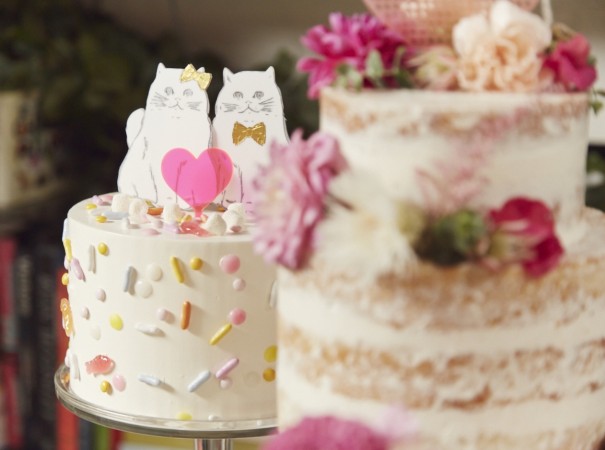 Moreover, the wedding planner also hired a cat as the bride's assistant for the kitten themed party, giving them a platform to beta-test their new wedding app. The cat assistant, Mrs Giggles, refusing to speak in person, said in a written statement "It waz so easy. And efficient. Kittehs love efficiency. Except when diztracted by Irrezistible things.. The app iz very irrezistible thing. Recommended!!!"
The "just meowied" couple is ecstatic and a teary-eyed Kiera said, "It's just so surreal, knowing that a sweet and adorable cat with her fuzzy little hands and twitchy little tail was helping us plan the best day of my life! It made getting married that much more meaningful."
With the wish that every cat lady wedding ought to be a dream-come-true. Happily explained the concept behind the cat-tastic cat wedding thus: "We wanted to take the crazy cat lady concept and give her a chic and happy wedding, all while kind of challenging the rest of the wedding industry to be open to the fun and zany."
The most crucial thing, while planning a wedding attended by felines, is that they need their naps and the wedding has to be planned around them and not the other way around, Happily planner revealed. For this, find ahead of schedule when your guests' nap times are and ensure that the kitties arrive on time in good moods and full of playful energy.
To make the day even more special for the cat-loving couple, Happily secretly even arranged for adoptable kittens from "Second Hand Souls Animal Rescue" to attend the cat wedding as their guests. Needless to say, the bride was as surprised as she was elated.
"And there were big ones and small ones and a mama one asking us to take it home with us! It said 'FURR-ever.' 'Furrever.' It was freaking romantic is what it was" Kiera cut in.
Zach added, "Seeing Kiera, freaking out over all those cats and pawing through the kitty-themed stationary.. it reminded me of how I fell in love with her. I really love this woman. And to our wedding planner, I'm just so grateful. There was nothing we wanted more than to have a bunch of cats to come and bless our wedding. It was amazing."
More amazing photos clicked by renowned photographer Josh Madson from the cat wedding can be found in the Happily Website Gallery.
The wedding app, which has not been launched publicly yet, is available for couples who want to be the first to try it out, Happily told to IB Times, India edition. Happily is on the lookout for the most unique couples in the world, who will help them design a product that is flexible with every type of wedding. Sign up for the app, which is free, is accepted here.