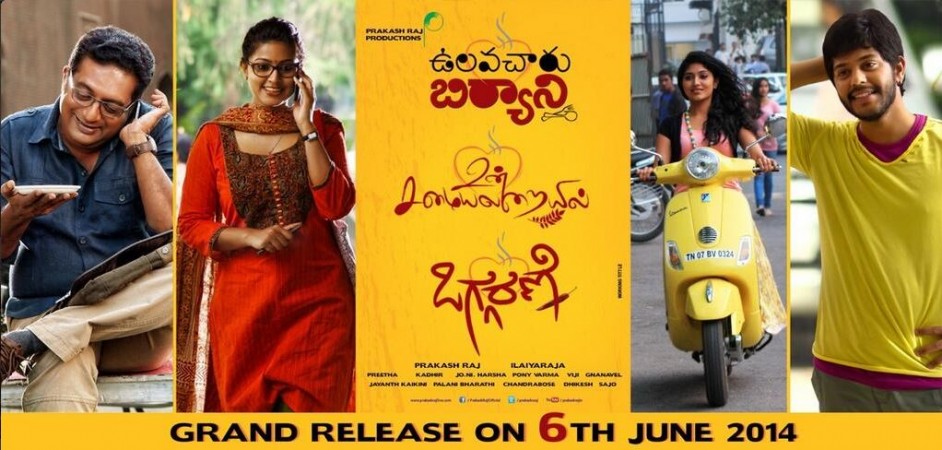 Prakash Raj-Sneha's "Ulavacharu Biryani," a remake of Malayalam film "Salt N' Pepper," has received mixed reviews from critics.
Story: "Ulavacharu Biryani" revolves around a 45-year-old archaeologist Kalidasu (Prakash Raj) and a dubbing artist Gauri (Sneha). Both are unmarried and share a common love for food. Kalidasu stays with his uncle (MS Narayana) and a cook. His uncle wants him to get married, but Kalidasu never feels the need to tie the knot and is busy with his research work.
One day, Kalidasu's nephew Naveen (Tejas) gifts him a phone and the first call he gets is a wrong number from Gauri. Their conversation starts with a fight but soon they become friends on phone and start exchanging their views on various topics. The friendship blossoms into love and they decide to meet. However, fear of rejection worries them and they don't dare to meet each other. Kalidasu sends his nephew Naveen, while Gauri send her close friend Meghana (Samyuktha) for the meeting. This leads to some confusions and how they are sorted out forms the crux of the story.
Critics have appreciated Prakash Raj and Sneha's performance in the film. Their romantic track is one of the major plus points of "Ulavacharu Biryani," they said. "Without doubt, one of the biggest highlights of the film is the lead pair of Prakash Raj and Sneha. Though Prakash, is a master in carrying off his roles with ease, it is Sneha who walks away with the cake here. She looks perfect as a 35 year old unmarried lady, and does an awesome job. The way she has shown the displeasure in the life of her character is too good. The way her role has been executed is also decent," said 123telugu.
Maestro Ilayaraja's songs and background scores and Preetha's cinematography have also received praise from the critics.
However, the film has some drawbacks including slow pace, the love track between Tejas- Samyuktha, the second half and the climax.
"The story moves to the climax abruptly and the meeting of Prakash Raj and Sneha fails to impress. This is the key moment in the film and due to bad screenplay in the second hour it didn't turn out as expected. This 'Ulavacharu Biryani' can only be relished if you are starving for past few weeks. Otherwise it wouldn't taste good as Prakash Raj didn't get the ingredients right. You may wait for the Home Edition," said Gulte.
In its review, Indiaglitz said, "The dialogues lack subtlety, a distinction that was needed for a film of this genre. Prakash Raj may be seen as the film's USP, but his acting style is such that he has overshadowed the character to a detrimental effect. Otherwise, he is his usual self, becoming narcissistic in a scene or two. It is vintage Sneha, and she is the film's best feature, better than even the Maestro's music and BGM."
Verdict: Not Tasty Enough