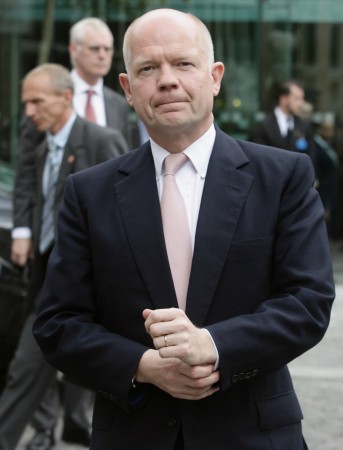 United Kingdom's William Hague has quit as foreign secretary and has decided to stay in the cabinet as Leader of the Commons, Downing Street has said in a surprise announcement that precedes a major shakeup of the Conservative-led government.
Prime Minister David Cameron's office has said that Hague – who has played the most important role as Britain's most visible statesman on international crises in the Middle East, Syria and Ukraine – was moving to the post in the House of Commons and will give up politics next year.
Cameron added that Hague would be his "de facto political deputy in the run-up to the election" in May 2015 and will lead the campaign for conservative majority in the British parliament.
The news comes just hours before Cameron was due to announce a major Cabinet shuffle on Tuesday, but the news of Hague's departure comes as a surprise to many politicians and public figures.
The veteran politician is leaving the Parliament after 26 years as MP for Richmond, North Yorkshire.
As part of the same ministerial reshuffle, veteran Conservative MP Ken Clarke has also stepped down, reports BBC.
According to senior ministers cited by the news channel, the current defence secretary, Philip Hammond, will replace Hague's position.
"William Hague as been one of the leading lights of the Conservative Party for a generation, leading the party and serving in two cabinets," Cameron said paying his tributes to Hague.
"Not only has he been a first class foreign secretary – he has also been a close confidante, a wise counselor and a great friend. He will remain as first secretary of state and my de facto political deputy in the run up to the election – and it is great to know that he will be a core part of the team working to ensure an outright Conservative victory at the next election."
Hague, who will now remain as a member of the National Security Council, said: "By the time of the general election next year, I will have served 26 years in the House of Commons and it will be 20 years since I first joined the cabinet.
"In government there is a balance to strike between experience on the one hand and the need for renewal on the other, and I informed the prime minister last summer that I would not be a candidate at the next general election."