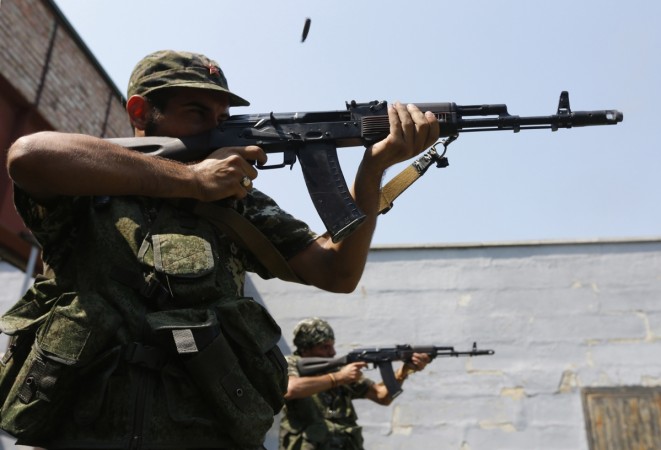 Ukrainian military has rejected calls from separatists for a ceasefire as fierce fighting raged in the rebel strongholds in the east of the country on Sunday.
The military stated the truce would only be possible if they surrender.
"If there is this initiative, it should be carried out by practical means and not by words - by raising white flags and by putting down guns," said military spokesman Andriy Lysenko, as quoted by various newspapers, on Sunday.
"In that case no one will shoot at them."
After Lysenko's address, the rebels said in a statement that they still wanted a temporary ceasefire on humanitarian grounds but the Ukrainian forces remained defiant, saying there can be no truce without their surrender.
Ukraine has been trying its best to dislodge pro-Moscow separatists from their strongholds in Donetsk and Luhansk.
Meanwhile, reports suggest that the lawmakers are prepared to consider new sanctions against Russia, which may cut the country's shipments of natural gas to Europe.
Russia has been hit hard, over the past weeks, as the West and the UN imposed the toughest sanctions since the Cold War era, for its alleged support of the militants. This has triggered reactions from the Russia as well, with Kremlin banning supplies of food from most of the European countries.
Ukrainian government forces are preparing for a final assault, before recapturing the city of Donetsk from pro-Russian separatists. This development comes after the military succeeded in making significant gains in the east, which has divided the rebels, according to reports.
"The forces of the anti-terrorist operation' are preparing for the final stage of liberating Donetsk. Our forces have completely cut Donetsk off from Luhansk. We are working for liberating both towns but it's better to liberate Donetsk first - it is more important," Lysenko was quoted as saying.
Military troops, of 20,000 Russian soldiers, were reported to have entered into Ukrainian territory last week - in what they called a humanitarian mission - as the pro-Moscow rebellions appeared to be losing their stronghold.
The international community has expressed its concerns that Russia would use the pretext of humanitarian grounds to invade east Ukraine.