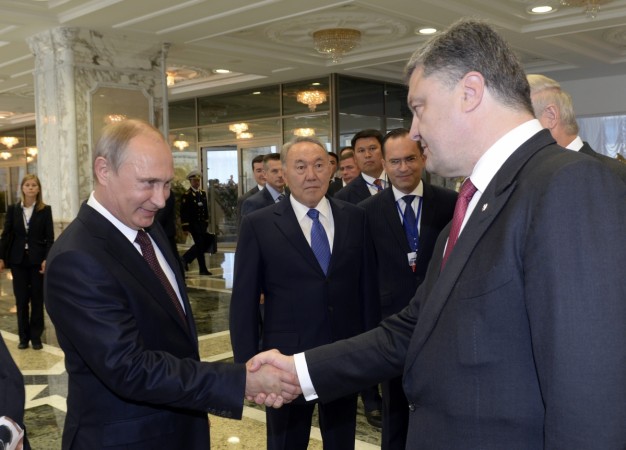 Russian President Vladimir Putin, who attended a high profile peace meeting with his Ukrainian counterpart Poroshenko on Tuesday, has thrown the onus of bringing about calm in Eastern Ukraine to the Kiev government.
"Russia, for its part, will do everything to support this peace process if it starts," Putin said in a press conference, after holding his first direct talks on the crisis with the Ukrainian president.
He however, stressed that it was up to the government in Kiev and separatist leaders in the east to work out a solution for a long time ceasefire.
On his part, the Ukrainian president said that a "roadmap" will be prepared to end fighting between the government forces and pro-Russian separatists in the east.
"A roadmap will be prepared in order to achieve, as soon as possible, a ceasefire regime which absolutely must be bilateral in character," Poroshenko said after the two hours of talks with Putin in the Belarusian capital, Minsk.
In a statement that he released on his website after the talks, Poroshenko further added: "Our main goal is peace. We are demanding decisive actions which will bring peace on Ukrainian soil.
"The logic of a peace plan was after all supported by all the heads of state without exception."
Prior to the one-on-one meeting, that until now was never expected to take place, the two leaders also held discussion with the EU's top diplomat Catherine Ashton, who described the talks as positive.
"We called for a ceasefire linked to the proper management of borders, the importance of ensuring that humanitarian support reached people in the proper manner in full line with international law, and of course the political process," BBC quoted her.
10 Russian Paratroopers
The talks came after Ukraine earlier said that its military had captured 10 Russian paratroopers near the village of Dzerkalne, near the Russian border in Donetsk region – the scene of some of the heaviest fighting with separatist rebels in the east.
In Moscow, news agencies quoted a Russian defense official as saying that the soldiers had crossed the border by accident, which they had surrendered to the Ukrainian authorities without any attempts to resist.
But the Ukrainian military spokesman Andriy Lysenko insisted that Russia was deliberately sending its forces as part of a special mission.
"This wasn't a mistake, but a special mission they were carrying out," he said according to BBC