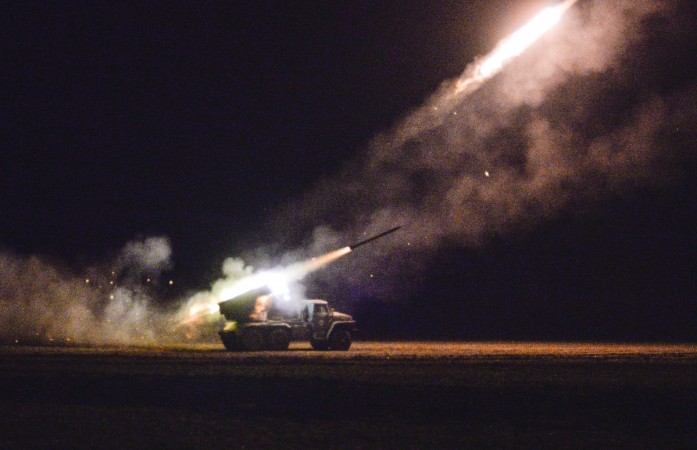 Pro-Russian rebels are claiming they have "encircled" the town of Debaltseve, which has been in the spotlight over the past few days, amid fierce battle taking place in the area.
On Monday, the rebels said that they have cut off a key supply road to Debaltseve, which is a critical railway junction located near the strategic, rebel-held city of Donetsk. Ukraine's military however, claims that the battle was still continuing.
"There is fighting going on for this road at the moment," the BBC quoted military spokesman Olexandr Matuzyanyk as saying. The report comes as fighting has been raging in the area for more than a week. Although there are reportedly thousands of Ukrainian troops present in Debaltseve, rebels are believed to be gaining ground there.
Earlier, there were reports that Ukrainian forces are trapped in Debaltsev – a claim quickly dismissed by Kiev.
In the last 24 hours alone, at least seven civilians have been killed in the area, according to the Ukrainian government. As the crisis in Eastern Ukraine continues to deepen – claiming about 5,300 lives and displacing 1.5 million people – German Chancellor Angela Merkel and French President Francois Hollande met Russian President Vladimir Putin presenting a "peace plan" last week.
Although the detailed proposal has not been officially released, reports have suggested that the plan includes a demilitarised zone of about 50 to 70 kilometres stretching the current frontline.
To discuss the proposal, leaders of Russia, Ukraine, Germany and France are due to meet in Belarus's capital Minsk on Wednesday.
Meanwhile, US President Barack Obama, speaking alongside German chancellor on Monday, said that the option of sending arms to Ukrainian troops still remains open.
"If, in fact, diplomacy fails, what I've asked my team to do is to look at all options," he said at a conference, adding that providing lethal defensive weapons to the Ukrainian government was only one of the options being evaluated to solve the crisis.
oEven as the peace plan under discussion is expected to give a respite to the long war in the region, many experts are skeptical about Putin's sincerity in resolving the crisis.