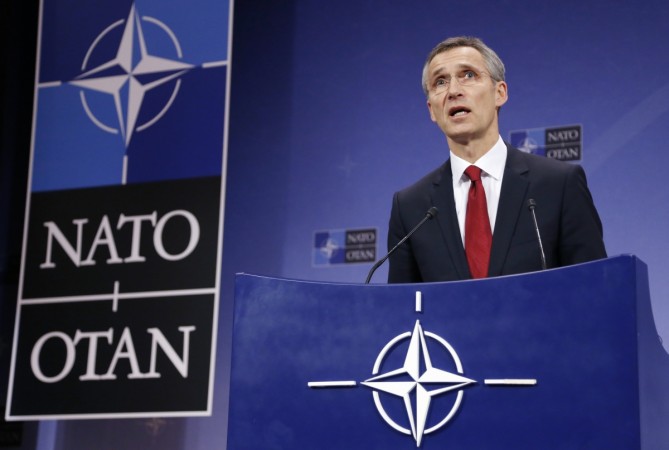 The North Atlantic Treaty Organisation (NATO) has resolved to bolster the alliance's military presence in Eastern Europe and is gearing towards what is being referred to as the "biggest reinforcement" after the Cold War era.
This comes as tensions in East Ukraine and the resulting feud between Russia and the Western alliance have entered a new high, after NATO recently ranked Russia as its greatest threat amid growing Russian attacks on Ukraine. The West holds Russia responsible for the current conflict becuase Kremlin supports pro-Moscow separatists in Eastern Ukraine.
Six bases are being set up in Europe with a 5,000-strong "spearhead" force being established. NATO will bolster its military presence and prowess especially in the alliance's easternmost member estates – Estonia, Latvia, Lithuania, Poland, Romania and Bulgaria – all of whom either share their borders with Russia or have a point of reference to the Black Sea connecting Crimea—the Ukrainian territory annexed by Russia.
Announcing the new measures from Brussels on Thursday, NATO secretary general Jens Stoltenberg, said it was the "biggest reinforcement of our collective defence since the end of the cold war."
"Our core responsibility is to keep our nations safe, and that is exactly what we are doing," Stoltenberg said, adding that the steps were being taken due to the need to improve defense against "changed security environment", a reference to the Ukraine crisis.
According to the plan, NATO's rapid reaction units will grow to 30,000 soldiers from 13,000 at present. The new force will be capable of being deployed to a flash point at a notice of 48 hours, said Stoltenberg.
While the new force will be able to target enemies by air and sea and via special operations units, two more land brigades will be on standby in an event of a major escalation.