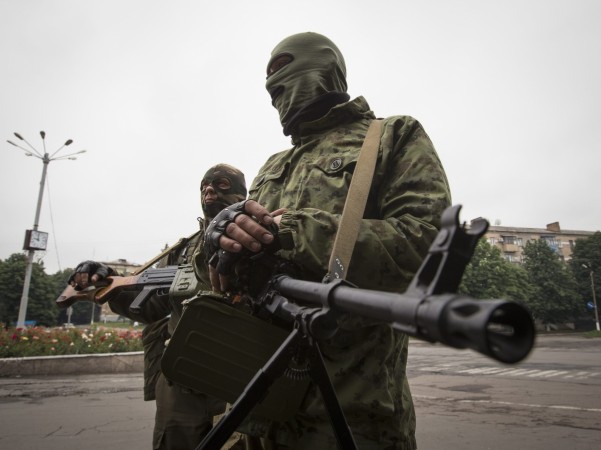 A military transport plane carrying 49 service personnel has been shot down by pro-Russian rebels, killing everyone on board, various reports say.
Ukraine's defence ministry has said that the Ilyushin-76 military transport plane went down over the airport of the eastern city of Luhansk.
Luhansk is one of the centers of pro-Russian separatist movement in Ukraine's east which has raised their voices against the pro-European government in Kiev.
In a statement, the ministry said "terrorists" had "cynically and treacherously" fired on the military aircraft.
"On the night of 13-14 June, the terrorists...fired from an anti-aircraft weapon and a large caliber machine gun, shooting down an Il-76 military transport aircraft...as it was about to land," the Defence Ministry statement said.
Although it gave no death toll, a military's spokesman, Bladislav Seleznyov, was cited by Reuters as saying that all 49 had been killed.
The death toll is the biggest suffered by government forces in a single incident since Kiev started its operation against the insurgency in east Ukraine – which the rebels want to be part of Russia just has Crimea has become.
Video posted on YouTube claimed to show the moment when the plane was shot down. Flashes of fire can be seen climbing towards sky, followed by other large flashes falling on the grounds.
Operation in Mariupol
Only hours after the plane was reported to have been shot down, Ukraine's government – which has been trying desperately to regain control of the restless south and east, having already lost Crimea – said that an operation in the city of Mariupol targeting pro-Russian separatists had been successful.
CNN reported citing Anton Geraschenko, the adviser to acting Ukrainian Interior Minister Arsen Avakov, that more than 30 separatists had been detained and their base had been destroyed. Other groups of unknown numbers are still hiding at their homes and basements for safety, he said.
Four Ukrainian soldiers were injured in the operation.
Russian Tanks?
More than 270 people are dead over the past two months in the "anti-terrorist operation" by Ukraine government forces. Ukraine's new President Petro Poroshenko, following his inauguration in Kiev last Sunday, has said that the sightings must come to an end this week.
Meanwhile, the United States says it believes that the tanks being used by separatists in eastern Ukraine came from Russia.
"Russia will claim these tanks were taken from Ukrainian forces, but no Ukrainian tank units have been operating in that area," a US state department spokeswoman was quoted by BBC as saying.
"We are confident that these tanks came from Russia," she added.
This comes after the appearance of those tanks, filmed in various towns in the Donetsk region, sparked a political row between governments of Kiev and Moscow. Vladimir Putin's government has denied the allegation that the tanks were given to the separatists by Russia.