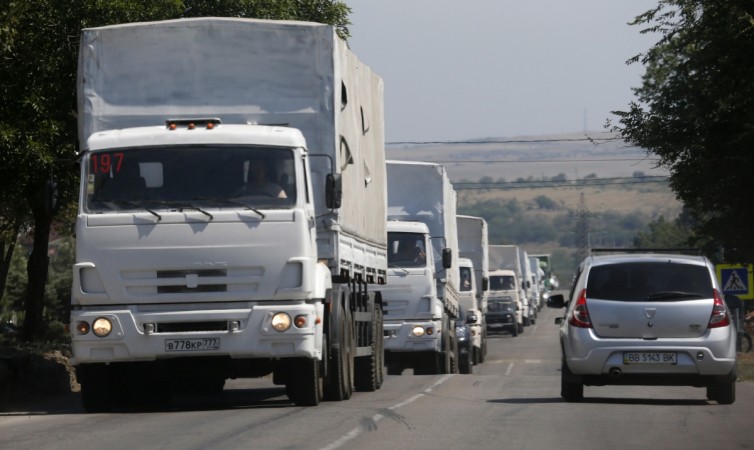 Russia on Monday announced its plans to send second aid convoy to Ukraine. This came even as the controversy surrounding the first batch of nearly 200 Russian Trucks – that entered the Ukrainian border without Kiev's approval-- has intensified tensions between the two countries.
Russia's unilateral decision to send the convoy across the border on Friday was characterised by the Kiev government as an invasion, with its Western allies also condemning the move with the strongest words possible. By Saturday all the trucks of the first batch had returned to Russia after delivering goods to the hard-hit rebel stronghold of Luhansk.
The first convey was not authorized by Kiev as NATO and the Western allies feared that Russia could transfer military personnel or weapons inside the border through the vehicles.
In a move that would be characteristic of an unyielding and adamant Kremlin government, Russian foreign minister, Sergey Lavrov, said on Monday that Russia had notified the Ukrainian government that Moscow was preparing to send a second convoy of humanitarian aid along the same route in the coming days.
"The humanitarian situation is not improving but deteriorating," he said in a news conference on Monday.
"We want to reach an agreement on all conditions for delivering a second convoy by the same route...in the coming days," he said adding that Russia's first convoy had delivered generators, food and drink.
The announcement came close on the heels of reports from Ukrainian sources that a column of about 30 armoured vehicles had entered from Russia close to the port city of Mariupol, which is a rebel stronghold city. The BBC reported that the vehicles bore symbols of the self-styled Donetsk People's Republic.
On Friday, after the alleged "intrusion" took place, reports from NATO suggested that Ukrainian troops were facing Russian artillery fire from inside the borders –in an instance that raised doubts on whether Russian military infiltrated into the borders via the trucks as feared by Western allies.