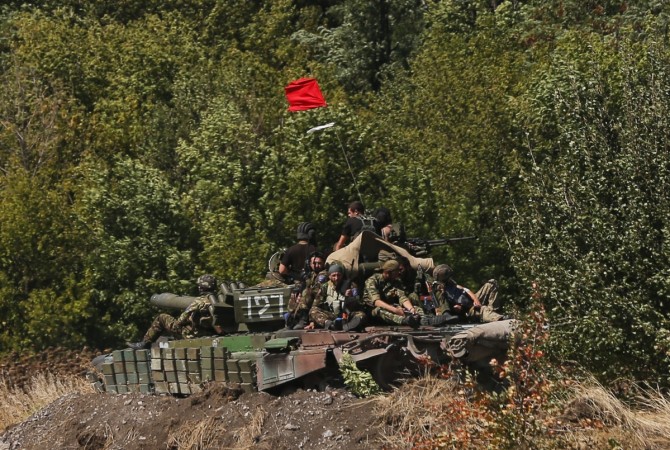 Ukraine has agreed to a 'permanent ceasefire' with rebels in the country's east after President Petro Poroshenko had a conversation with his Russian counterpart Vladimir Putin by phone on Wednesday, the Ukrainian government has said.
"Their conversation resulted in agreement on a permanent ceasefire in the Donbass region (Donetsk and Luhansk)," Poroshenko's office said earlier on Wednesday. "They reached a mutual understanding on steps leading to peace."
However, President Poroshenko's website soon changed the wording of the announcement saying agreement has been reached on "ceasefire regime in the Donbas".
"President of Ukraine Petro Poroshenko had a phone conversation with President of Russia Vladimir Putin," the changed statement said.
"The conversation resulted in an agreement on ceasefire regime in the Donbas. The parties reached mutual understanding on the steps that will facilitate the establishment of peace".
Meanwhile, news organizations later cited Kremlin as saying there was no 'agreement' on truce as such.
This comes as the conflict in the country's east seemed to be spiralling into a major conflict with Ukrainian Defense Minister saying via a tweet on Monday that Russia had triggered the "greatest war" after The Second World War against Ukraine.
The announcement of the long-term truce comes as US President Barack Obama meets Baltic leaders in Estonia ahead of a NATO summit. It also comes as pressure continues to mount on Putin over Moscow's alleged support for the pro-Russia separatists in Ukraine's east with NATO announcing to create a 'Rapid Response Force' of 4,000 special forces based in East Europe.
The Special Forces will have its bases, in Estonia, Latvia, Lithuania, Poland and Romania, reports have suggested.
It will include Special Forces, air, naval and intelligence detachments to counter threats and deliberate breach of international law. Although the Alliance has not named Russia as the threat against whom the measures are being taken, it is clear that NATO has been stepping up its efforts against what it has called 'Russian intervention' in east Ukraine.
More than 2,600 civilians and combatants have been killed and more than a million people have been forced to flee their homes since fighting erupted in the area in April, when pro-Moscow separatists declared independence.
Russia has repeatedly denied accusations by the West and Ukrainian government that it has supplied arms to the rebel forces, which recently seemed to make gains from a new front in the country's south.