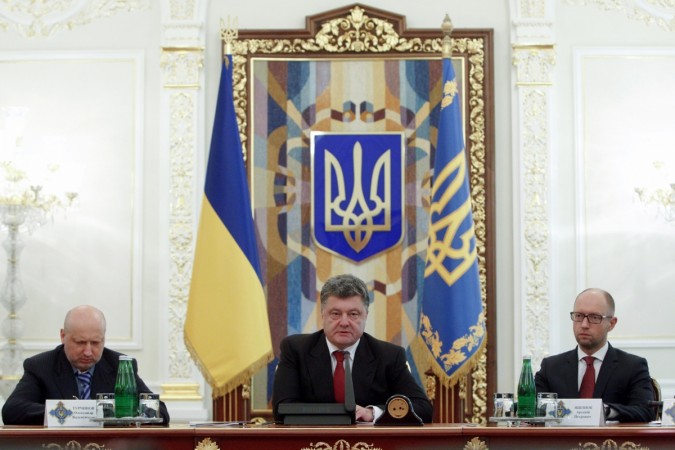 Ukraine has accused Russia of launching one of the greatest wars after the Second World War, which could claim tens of thousands of lives.
The comments made by Ukraine's defence minister comes as the NATO is set to approve the formation of a special 'Rapid Response Force' designed to quickly go into action against the Russian intervention in Eastern Ukraine.
"A great war has arrived at our doorstep – the likes of which Europe has not seen since World War Two," Ukrainian Defence Minister Valeriy Holetey wrote on Facebook on Monday. "Unfortunately, the losses in such a war will be measured not in the hundreds, but thousands and tens of thousands."
As Russia appears to step up its military activities in Ukraine despite repeated global condemnation, leaders of the NATO is now expected to approve the creation of the force, which will be the most concrete repose yet to the increased Russian involvement in Ukraine.
Russia, which is in pressure from the international community, has repeatedly denied Western accusations that it is providing troops and equipment to the pro-Moscow separatists.
Soon after the Ukrainian minister made the comments, Russia quickly dismissed the remarks, saying they only pulled the Ukrainian people further into conflict.
BBC quoted Russia's foreign ministry as saying it was "hard to believe that such statements can be made by the defence minister of a civilised state".
This comes after Ukraine's army said earlier on Monday, that it had to withdraw from Luhansk airport after it was attacked by Russian tanks – an incident described by the Ukrainian President Petro Poroshenko as "direct, overt aggression against Ukraine from the neighbouring state".
The pro-Russian rebels, over the days, have been making a series of gains in both Luhansk and Dionetsk regions, and further south around the port of Mariaupol, much to the ire of the Western allies.
Meanwhile, on Monday, NATO Secretary General Anders Fogh Rasmussen provided new details about the proposal of creating the Rapid Response Force, describing it as a "spearhead" designed to be deployed on just a few day's notice.
"This spearhead would be provided by allies in rotation, and could include several thousand troops, ready to respond where needed with air, sea and Special Forces support," he told a briefing at the NATO headquarters in Brussels.