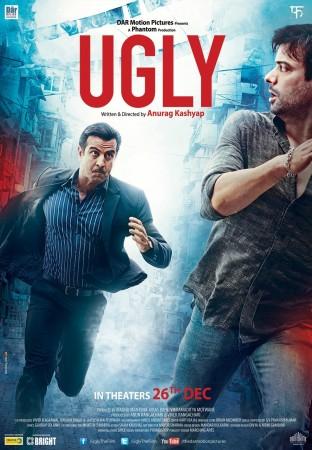 IBTimes India Rating: 4.5
Anurag Kashyap directs a hard-hitting tale of fractured relationships and inner demons. Not for the faint-hearted, "Ugly" works like a mirror reflecting upon the unsettling reality of everyday lives.
A 10-year-old Kali goes missing after her father Rahul (Rahul Bhatt) leaves her in the car unattended. The child's step father Soumik Bose (Ronit Roy), a cop, takes it upon himself to find the little girl's whereabouts. Interestingly, the two have Shalini (Tejaswini Kolhapure), a suicidal caged housewife, in common. Rahul is her estranged husband who physically abused her, Soumik is the 'protective' significant other who taps her phone calls never letting her slip away.
What's disquieting about the narrative is its evil characters, who have a positive purpose, but somewhere along the line fall prey to excessive greed and overpowering ego.
Roy owned it with a gripping performance as the extremely obsessive and insecure husband who is simmering with hatred and discontent over a murky past he shares with his wife's ex-husband. Bhatt and his sly sidekick of a friend Vineet Singh do a good job of money-hungry struggling professionals trying to make it big in the film industry. But Kohlapure's silences scream out loud making one sit up and take notice of the lady's inner turmoils and her inability to make peace with love.
Stretched a little over two hours, Kashyap's latest is as honest as the day. Staying true to his forte, the master filmmaker builds-up the plot introducing strong characters on the go. The real locations, lighting and sets are gritty and adds to the dark charm of the film.
However, the heart-breaking bit of this very well crafted offing is it's unwillingness to solve problems at hand. It ends with feelings of helplessness and hopelessness.