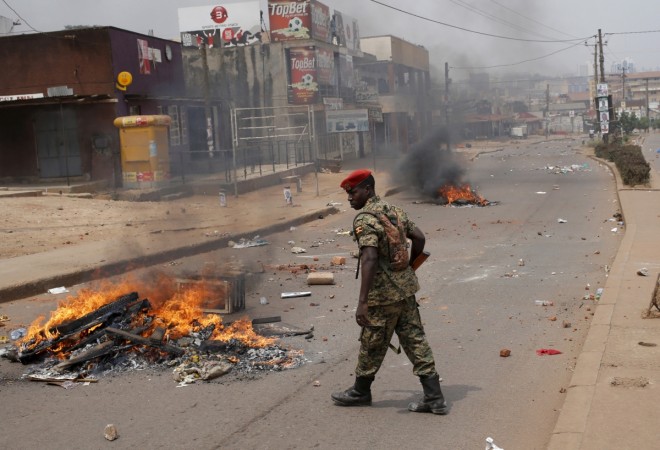 Kizza Besigye, the main contender against Ugandan President Yoweri Museveni in the 2016 elections, was put under house arrest on Saturday to prevent escalation of protests. The election results are due on Saturday.
Besigye was arrested on Friday after the security forces raided his party office in the capital Kampala. Stun grenades and tear gas shells were hurled at Besigye's supporters. He was arrested for the third time this week and put under "preventive measures."
The police attacked the Forum for Democratic Change party headquarters when Besigye was holding a meeting with his members. He was taken to an unknown location on Friday and then moved in the early hours on Saturday to his own house, where he was put under house arrest, according to Associated Press.
The election tally on Saturday showed Musevini in the lead, with 60 percent votes, and Besigye with 35 percent. However, people and Besigye allege unfair elections.
On Thursday, access to social media was suspended as the country went to the polls, which were delayed by hours. However, citizens bypassed the clamp down by using a Virtual Private Network (VPN).
Museveni came to power in 1986 after a coup and had amended the constitution so that he can continue to take part in elections.
Uganda is an US ally and has not been as fraught with terrorism as its neighbouring countries like Kenya and Somalia.
US Secretary of State John Kerry on Friday raised concerns with Museveni regarding the social media shut down and Besigye's detention, according to Reuters.
"(Kerry) urged President Museveni to rein in the police and security forces, noting that such action calls into question Uganda's commitment to a transparent and credible election process free from intimidation," the US State Department said in a statement late on Friday.