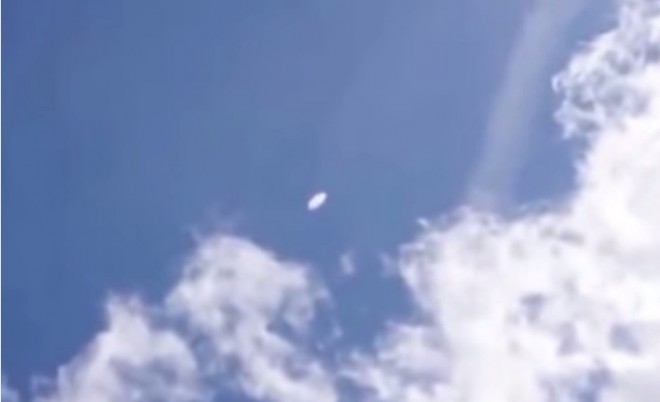 A mysterious unidentified object (UFO) was spotted hovering over North London at 1.30 p.m. local time on Monday (7 p.m. IST).
A member of the public witnessed the strange object moving over Islington, north London and posted the images on the Facebook page of Mixtris UFO-images.
The user described that the object appeared black in colour and was rotating while it moved across the sky.
"I captured this object a couple of streets away from where I live. The object appeared black in colour and was rotating as it moved along. I captured nearly 5 minutes of video before I lost sight of it floating in the direction of Highbury & Islington. I'm not sure what this object is. I thought it was a balloon, but there appears to be a light on it. I put together this collage of stills grabbed from the video. I guesstimate the object to be 1/2 a mile away and possibly 500-1000 foot high. I'll upload the video to YT as soon as I finish processing it. I would like some feedback on this. Thanks," the witness posted on the Facebook page of Mixtris Ufo-Images.
The Open Minds UFO News and Investigations report claims that the strange object resembles a helium-filled, remote-controlled shark toy. The shark toys are used indoors only, but they are known to escape into the skies and get out of range of the remote control, according to the Open Minds website.
This is not the first time that a UFO has been spotted drifting over London. Last month, a You Tube user posted a video of a white object flying above London. The user, Amazing Mystery Videos, described the video saying, "Amazing UFO in London caught on tape. Extraterrestrial or no? Look [at] this real sighting. A spaceship, real alien on camera, best evidence [of] abduction and extraterrestrial life."
[ED:VS]