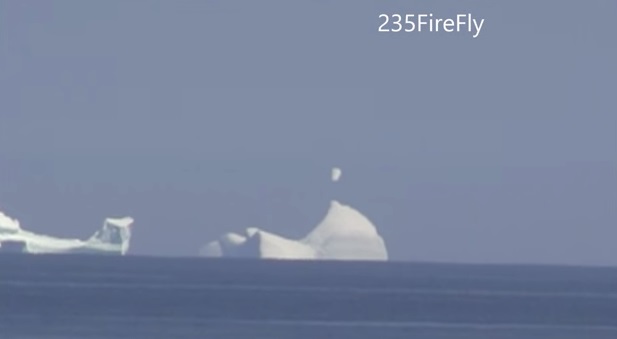 An Unidentified Flying Object (UFO) was found hovering and spinning over an iceberg in Canada, as reported by Mirror Online.
According to some, the object could be a mirage or it can be a flag, but 235FireFly, a You Tube user, who posted the incredible video on YouTube says that he saw the object spinning.
235FireFly, while driving around the area, looking at the iceberg, noticed a mass of ice that looked narrowly attached to an iceberg.
"Hoping to catch it collapse I took out the camera and zoomed in. What you can see is a white object not attached to the iceberg, but rather spinning around and changing shape." Mirror Online quoted the user as saying.
"It's a UFO with its cloaking device on. It's blocking the middle part of the iceberg." considered a conspiracy theorist.
About 45 seconds after the object was seen, there was another object that flew down and sank into the water.
The incredible video of 48 seconds has grabbed worldwide speculation regarding what could be the object; an UFO, mirage, alien from a different world or just a piece of iceberg?
For the video of the incredible object floating over an iceberg, check out here.
Similar UFO sightings have been reported recently, when an unidentified object was destroyed by a fighter jet in Durango, New Mexico.
The unidentified object called the giant 'alien monster' was seen in the Durango dessert. The moment was captured in a one minute, 41 second video, which was uploaded on YouTube, showing how the US military aircraft destroyed the unidentified object.
The jet flight drops a bomb over the 'alien monster,' thus causing flames to erupt, which eventually destroys the object. A cloud of smoke rises up in the air as the alien monster vanishes.
Similar incident had been reported on 9 May 2014, when a mysterious hole in the cloud was seen over Stockton, Northern California. Images of the weird object led to people wondering what must have caused the phenomenon.
The weird phenomenon was explained by National Oceanic and Atmospheric Administration (NOAA) as the "hole punch cloud," which is formed when the white could temperature drops below the freezing point, forming ice crystals. The evaporating crystals leave behind a hole in the cloud.
In another UFO sighting, crew from Australia's TV production saw two UFO hovering over Queenstown, New Zealand. The sighting was captured while shooting for the seventh season of "Colour In Your Life" series.
The video of the UFO uploaded by the TV programme, captured global speculation from social media portals. The sightings were captured on 3 May 2014, while filming for the first episode of the series. But it was only when the crew started reviewing the edited footage, they noticed two mysterious objects flying overhead.