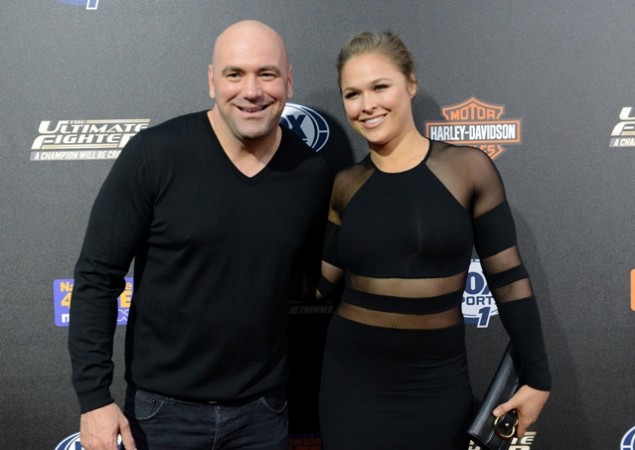 The most destructible female mixed martial arts (MMA) fighter of her generation, Ronda Rousey, has given a glimpse into what made her take the sport of fighting as a career.
The 28-year-old American, who is the defending UFC women's bantamweight champion of the world, had her first tryst with martial arts at the age of 11, when she started out with Judo. Rousey soon went on to become the youngest judoka to take part in the Olympics, as she qualified for the 2004 Summer Olympics in Athens at the age of 17.
Her biggest claim to fame came in the 2008 Beijing Olympics, where she became the first American woman to earn an Olympic medal in judo by winning the bronze.
Recalling her journey as a fighter over the years, Rousey, who faces Holly Holm at the main event of UFC 193 on 15 November in Melbourne, said that it was the pent-up frustration following her father's death that made her take up fighting as a career. "I am a fighter. But I am not a violent person. I don't enjoy hurting people," the No 1 pound-for-pound female MMA fighter in the world, wrote in her column in Herald Sun.
"If anyone gets hurt, it is not the aim of my actions — in fact I prefer winning with no one getting hurt. But injuries are part of my business, just like carpal tunnel is for people who type all day to make a living. For some reason I was born to a mother who was a judo world champion. For some reason I lost my father to suicide at eight years old. I had so much bottled up grief and anger and self-loathing and for some reason I found an outlet that saved me -- Fighting," she explained.
Rousey won the UFC gold in UFC 157 against Liz Carmouche in 2013, and she has since had five successful title defenses. "To me fighting is not an exhibition of brutality or a glorification of violence. Fighting is a metaphor for life," Rousey continued.
"Everyone you meet every day is fighting for something, but life gets complicated and what you're fighting for sometimes isn't very clear. But an actual fight is black and white, a relief from all the grays in the not so literal ones we're all engaged in," the fighter, who has also starred in movies like 'The Expandables 3', 'Furious 7', as well as 'Entourage', added.
Meanwhile, on a lighter note, the bantamweight MMA fighter has confirmed her relationship with 33-year-old UFC heavyweight fighter Travis Browne. "It's true that Travis and I are in a relationship. I've really enjoyed the time we have spent together and getting to know one another. And that's all I'm going to say about it," Rousey told ESPN.