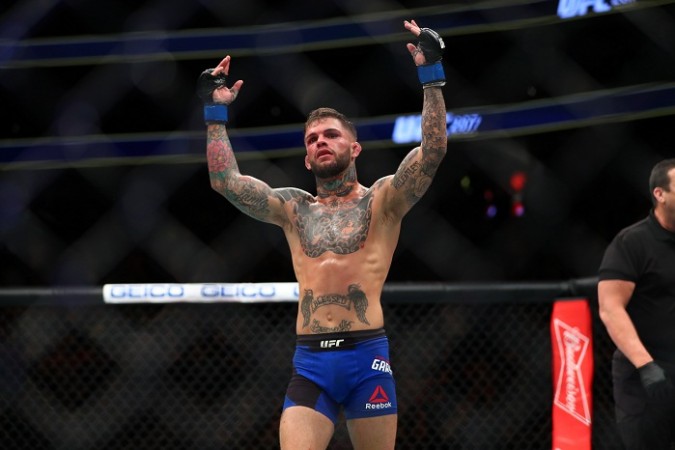 The UFC is one of the fastest growing sports in the world right now and a lot of top fighters are eyeing a chance to fight in what is the most decorated fighting sport.
Conor McGregor changed the face of the sport, set new standards and took professional MMA to another level after he defeated Eddie Alvarez to become the first UFC fighter to hold two titles in different weight-classes simultaneously. While McGregor changed the sport for good, Ronda Rousey is the reason many young female fighters are getting into the sport. The year 2016 witnessed a lot of young and upcoming fighters who made a huge impression and who could go a long way in 2017.
Also Read: Amanda Nunes says Ronda Rousey has retired
Here is a list of the top 5 UFC fighters to keep an eye out for in 2017:
1. Cody Garbrandt (Bantamweight division)
Ever since Cody Garbrandt made his debut in the UFC there has been no stopping him. The 25-year- old is currently 11-0 in his professional MMA career and after his most recent win against Dominick Cruz which saw him become the UFC Bantamweight Champion; it looks like he is here to stay for a while. Cody was really under-rated initially because he did not fight a lot of high profile stars at the start of his career, but after he defeated Cruz he is certainly one of the most feared strikers in the UFC at the moment. Garbrandt has finished 9 of his fights through knockout, which only goes to prove how strong he is. Now that Cody is the Bantamweight champion, a lot of fighters will want to fight him and they will not have an easy time with him in the octagon.
2. Yari Rodriguez (Featherweight division)
Yari Rodriguez is the next best fighter to come out of Mexico. The 24-year-old came into the limelight after he won The Ultimate Fighter: Latin America and since then he has been undefeated in his UFC career. His most impressive fight so far was when he won Fight of the Night award after he defeated Alex Caceres at UFC Fight Night in August last year. Rodriguez might not have a lot of knockout or submission wins in his MMA career, but he does have a lot of stamina and endurance to keep on fighting and that goes a long way in the UFC. Yari faces an experienced fighter in BJ Penn in his next fight on January 15 and even if he loses this fight the youngster has a bright future ahead of his on the UFC.
3. Mickey Gall (Welterweight division)
Mickey Gall is no doubt one of the best up and coming fighters in the UFC. Gall was spotted by UFC President Dana White at a local MMA event and was so impressed with him that he offered him a UFC contract following which he made his intentions clear that he wanted to fight CM Punk. But he had to defeat Mick Jackson to get the fight and he did so with ease chocking him out in 45 seconds of the very first round. He then went on to defeat CM Punk too in the first round itself through a rear-naked choke. Then Gall set his sights on 19-year-old Sage Northcutt, who, he also defeated through a rear-naked choke. Going by how he has won all his professional fights, Gall is certainly a submission specialist. If Gall can continue this form in 2017, he will certainly have a bright future in the UFC.
4. Alexa Grasso (Strawweight division)
Alexa Grasso started out fighting for local promotions in Mexico where she won all four of her fights before making the jump to Invicta FC. After impressing there too, the Lobo Gym fighter earned herself a contract with the UFC where she fought the experienced Heather Jo Clark in her first fight. Clark was no match for Grasso and despite being known for her stand-up; Grasso controlled the fight wherever it went. She had solid takedown defense and was tough to deal with in the clinch. She will be tested at UFC Fight Night 104 when she goes toe-to-toe with Felice Herrig.
5. Michella Waterson (Strawweight division)
Michella Waterson has been in the MMA business for quite a while, but only recently made the switch to the UFC. Prior to joining the UFC she used to fight in Invicta FC where she has 4-1 record. She made her promotional UFC debut, The Ultimate Fighter 21 Finale, where she defeated Angela Magana via submission in the third round. She then got her chance on the big stage where she fought Paige VanZant and defeated her through a rear-naked choke in the very first round. Waterson might not have a lot of experience in the UFC, but by defeating VanZant she has certainly made a name for herself and will be eying a title shot in 2017.