Mixed Martial Arts (MMA) fighters do love to flaunt their body and there is no shame is showing off their chiseled frame and those perfect curves. While we get bare-chested men all the time inside the octagon, the women fighters have to rely on sports and fitness magazines to bare all.
After 'Karate Hottie' Michelle Waterson went nude for the ESPN "Body Issue" earlier this year, another UFC star Rose Namajunas stripped everything for the Women's Health magazine.
Both fighters compete in the UFC women's strawweight division (115 pounds).
Namajunas, 25, holds a 7-3-0 record in MMA and she recently bagged a Round 2 submission win over Waterson this April at an UFC Fight Night event. Namajunas thus has received a massive chance to fight the champion Joanna Jedrzejczyk, up next.
Talking about her experiences of going nude for Women's Health Mag's "Naked in 3 Words" campaign, the American, who holds black belts in karate and taekwondo respectively, mentioned that her uncovered body sports marks of her entire journey in life.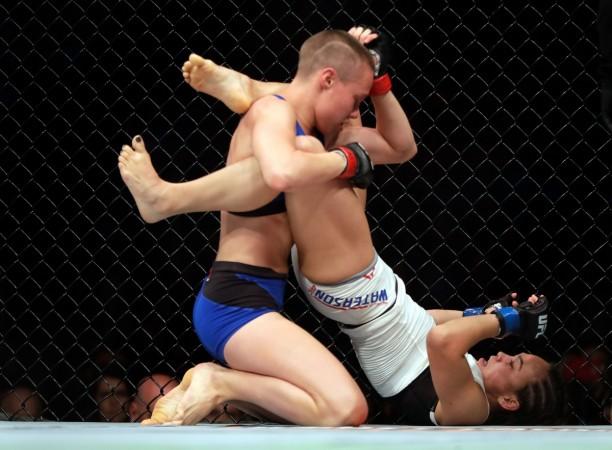 "My naked body is... the story of my whole life. There's a lot around us that we can't control, but my body, my mind, and my soul are pretty much the only things that I can. All the scars on my body, all the bumps and bruises, all the muscles—that is a story of everything I have done. And it's not just my story. My ancestors who came before me gave me this vessel to sculpt and mold.
"My hands look like my dad's and my mom's put together. She's a piano player, he was an artist, and I use the creative qualities I got from them in my fighting.
"But I don't just destroy with my hands, I also create: I cook and make art and garden. Being resourceful and creating is a big part of my Lithuanian culture. My grandfather is part of who I am too. He was a professional wrestler. He had a very functional, very slick, long frame.
"My body is designed to move and be agile and be like an Amazon warrior. Boobs would hold me down. "I have a middle finger that was jammed in one of my craziest fights, and it looks like a swollen turkey to this day. There's a bone chip that's in there, and it's a reminder that this finger contributed to my fight, and to my beautiful house, to everything in my life.
"It might be ugly, but it's mine and I love it. I've got some big old knees, big old feet. I could nitpick, but at the same time, I think it's all friggin' beautiful."
Rose Namajunas is not the only one to go nude for the "Naked in 3 Words" campaign, which gives women the platform to describe about their bodies.
Here is the full list of personalities who bared it all:
Dana Vollmer
Chelsea Miller
Sofia Vergara
Franchesca Ramsey
Anna Victoria
Rose Namajunas