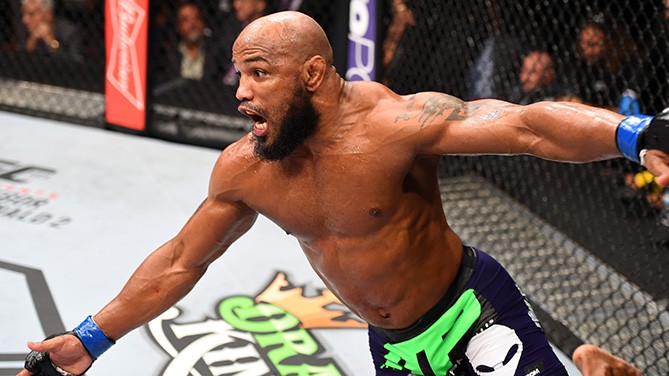 After a significant victory over UFC legend Lyoto Machida at the UFC Fight Night 70, Cuban hard-hitter Yoel Romero has left it on God to decide whoever is put in his path next as he looks forward to continue his momentum in the Octagon.
Romero displayed needle-sharp striking flair on Saturday in Hollywood, Florida, for his tenth and probably the most important pro win of his UFC career.
The "Soldier of God", ranked six in the UFC Middlweight Division, now moves up to a 10-1 record in the Octagon.
The sound of the brutal elbows and the incessant ground-and-pound took the Hard Rock Hotel and Casino by storm, and Romero was declared the winner of the fight at 1:38 of the 3rd Round, by a Technical Knockout (TKO) by the veteran voice of the Octagon, Bruce Buffer.
A flurry of front kicks, flying knees and even a Superman punch off the cage in addition to left hooks were thrown by the the 38-year-old at his opponent, as the fight went past the first round.
UFC veteran Machida caught Romero with straight right and left hands on several occasions, but when Romero hit him, the effect was more apparent.
The moment of victory for the Cuban came when he did an inside trip on Machida to put him on the ground, and Romero, from the mount position, started his flurry of ground-and-pound. Those devastating hard elbows forced referee John McCarthy to step in and halt the bout at 1:38 of the frame.
The former winner of a silver medal in Wrestling at the Olympics in 2000, has surrendered to the supreme power as well as the UFC top brass to decide on his next opponent.
"I thank God for the win against Lyoto. I'm a child of God, so I leave what's next for me in God's hands," Romero said in the UFC backstage interview.
"I'm also a UFC athlete. When it comes to my next fight, I'll let the UFC decide who they want to put in front of next."
A fight against current UFC Middleweight Champion Chris Weidman may not be next on the cards for the Cuban as the Champion has been already slated to face No 1 contender Luke Rockhold and UFC President Dana White has also confirmed it.
However judging by his current manner of victory, White could be forced to give Romero a shot at the UFC 185-pound crown in the coming months.
MMA Mania has revealed that Romero might also be in line to meet Rondaldo "Jacare" Souza for the third time, but this time the UFC fans would want the fight to be successful.
Romero was twice slated to fight Souza, but injuries took the upper hand in both occasions. While the "Soldier of God" fell ill with pneumonia on the first occasion, he suffered a torn meniscus in the second occasion.