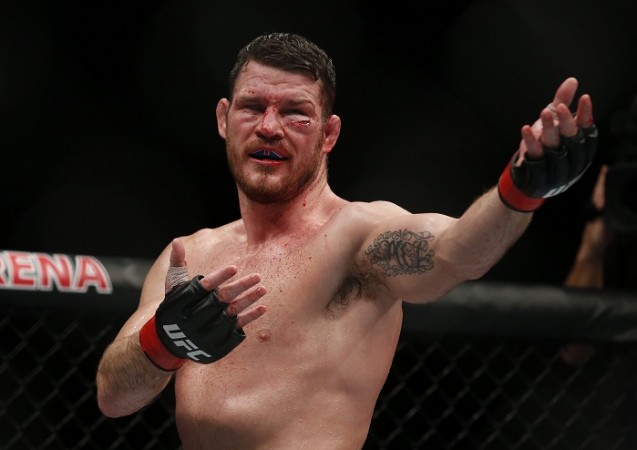 Former UFC Welterweight Champion Georges St-Pierre was expected to make his return to the UFC sometime this year and was supposed to fight Michael Bisping for the Middleweight Championship. While the UFC announced their bout, no official date or venue was released, but the fight was expected to take place sometime in July.
Recently, St-Pierre released a statement saying he would not be ready to make his return until October and that infuriated UFC President Dana White. After several delays, White finally decided to cancel the match and instead offered it to the No. 1 ranked middleweight contender Yoel Romero.
Also read: Dustin Poirier: I respect Eddie Alvarez but he made a mistake agreeing to fight me at UFC 211
After the UFC had announced the bout between Bisping and St-Pierre, the UFC received a number of complaints from fans and middleweight contenders. The main reason for that was because Romero was promised a title fight after his knockout of Chris Weidman at UFC 205 last year.
Even if Romero was not available to fight, a number of other fighters like Luke Rockhold, Robert Whittaker and Gegard Mousasi were in line for a title shot. The UFC president finally got tired of St-Pierre regularly delaying the fight and decided to move on from him.
"I made this GSP fight, we did a press conference. The thing was supposed to happen in July. Michael Bisping is going to have to defend his title now. We're not waiting for GSP. Yoel doesn't need to voice his opinion on why he needs a title shot. He definitely deserves a title shot. He's next in line, he's the No.1 ranked guy in the world," Fox sports quoted White as saying.
The UFC had initially asked Romero to step aside because Bisping and St-Pierre wanted to fight each other. But after St-Pierre said he wanted to wait at least until October to fight White realised that it made no sense to put the division on hold until he was ready to fight.
"Georges St-Pierre was coming back. Bisping-St. Pierre — they both wanted that fight. We asked Yoel to step aside, he did. It doesn't look like that fight is gonna happen now," White said."Georges St-Pierre is saying he will not be ready to compete now until November. Who knows if that's even the case. It could be next year," White said.
"So we're not waiting for Georges St-Pierre anymore. We're moving on with the division, and Yoel Romero will get the next shot."
Romero more than deserves his title shot against Bisping as he is currently on an eight-fight win streak having beaten the likes of Chris Weidman, Ronaldo Souza, Lyoto Machida and Tim Kennedy.