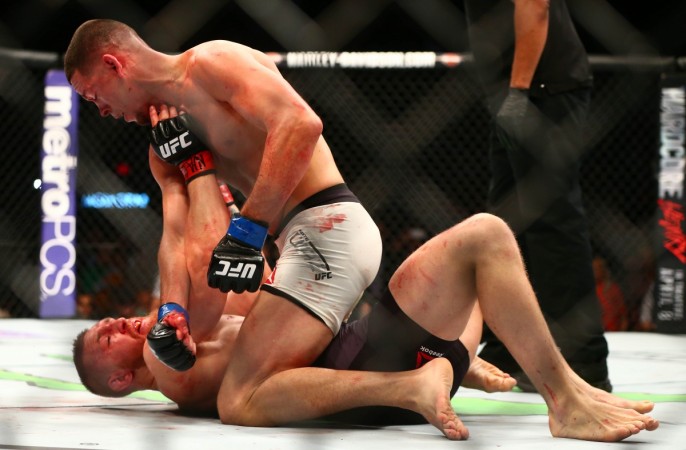 UFC commentator Joe Rogan feels Featherweight Champion Joe Rogan should brush up his BJJ (Brazilian Jiu-Jitsu) if he wants to have an upper hand over Nate Diaz in their possible UFC 200 rematch. Rumours have been doing the rounds that the two fighters are set to meet each other once again inside the octagon July 9.
Diaz submitted McGregor in the second round of their UFC 196 main event fight via a Rear Naked Choke (RNC) to record a 1-0 score in the octagon over the Irishman. MMA (Mixed Martial Arts) fans around the world have called for a rematch at UFC's landmark event UFC 200 and sources close to MMA Fighting have claimed that the UFC officials are close to confirming the fight for the company's landmark event.
The bout is expected to be a non-title welterweight bout once more.
However, prior to that, the flaws in McGregor's game needs to be addressed. The Irishman McGregor, who has made a name for himself around the world for being one of UFC's top thrash-talker, doesn't have that great a ground game. His striking abilities are never a doubt as he has knocked out the likes of Jose Aldo and Chad Mendes in the past.
Once the fight goes to the ground, it's a different story altogether. After Diaz connected a left hand with McGregor with the utmost precision in the second round of their UFC 196 bout, the fight went to the ground and the Irishman came up with little to no defending skills to counter the RNC from the American.
"Nate Diaz is the wrong guy to go to the ground with. Nate Diaz is a legit black belt, a really high-level black belt," Rogan was quoted by MMA Fighting. "I knew Conor had gotten submitted by Joe Duffy [in just 38 seconds of their lightweight bout at Cage Warriors 39 in Nov. 2010]. Anybody can get submitted if you get caught, but he got submitted by that Joe Duffy guy just a few years ago."
"Joe Duffy is a very talented fighter, no doubt about it, but Nate wouldn't have gotten submitted by that same guy. I highly, highly, highly doubt it."
Rogan added that if the fight remains standing, McGregor could have the upper hand over Diaz. However, that didn't exactly turn out during their UFC 196 bout. Therefore, he asserted, that the need for a rematch is more essential than ever.
"He [McGregor] might knock [Diaz] out," Rogan continued. "Conor can knock out anybody. But he didn't. So now that he didn't and now that Nate knows he didn't, now they're going to go into the second fight and Nate's going to have a full training camp."
Diaz didn't undergo a training camp ahead of his battle against McGregor earlier this month.