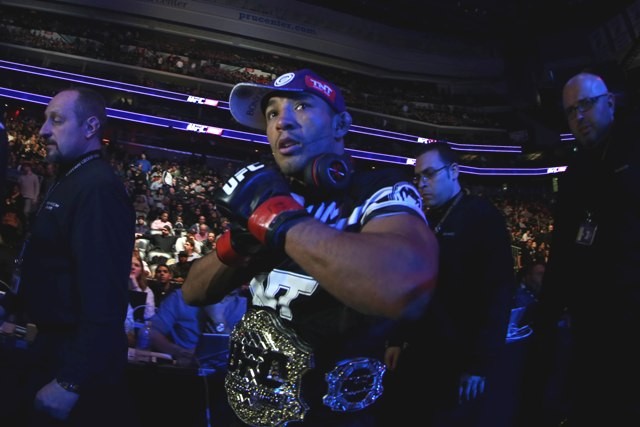 One of the most decorated MMA fighters ever to step foot in the UFC, Jose Aldo, was made to look like anything but an established fighter after what happened in the main event of UFC 194 last December.
The Brazilian martial artist was knocked out by Irishman Conor McGregor after just 12 seconds into their first round for the undisputed UFC Featherweight Championship. 'The Notorious' McGregor completely outclassed Aldo, and so bad and shocking was the defeat for Aldo that the former No 1 UFC pound-for-pound fighter in the world was unable to say anything after the fight.
More than a month has passed, and lots of things have changed in the Featherweight division. McGregor has moved up to the Lightweight category and will fight Rafael dos Anjos for the UFC Lightweight title in UFC 196 now.
Dos Anjos vs McGregor was originally scheduled to take place in UFC 197, but with recent events involving Cain Velasquez and Fabricio Werdum retiring hurt from their scheduled UFC 196 bout, UFC announced that the event gets rebranded as 'UFC Fight Night 82: Hendricks vs Thompson', featuring a Welterweight bout between Johny Hendricks and Stephen Thompson.
Nevertheless, speaking of McGregor, who is currently the UFC Featherweight champion, has a massive opportunity to hold two different weight category titles if he comes out with flying colours in UFC 196.
However, if that indeed happens, Conor McGregor has to make a decision on the weight category he permanently wants to feature in at the UFC. Maybe, the Irishman could make his decision now, with his former foe Jose Aldo once again coming out of the oblivion to demanding a Featherweight rematch.
Aldo posted a long message on his facebook page stating that he had his waiting for the rematch, but a lack of response from UFC has disappointed him. The Brazilian also said that he was willing to fight McGregor "anytime, anywhere", once again.
"Hi everyone, I was quiet for a while, because I was waiting for my rematch. In fact, I was already training for it, based on how the fight went down. But apparently I was wrong. So I wanted to make something clear to the UFC: for everything that I've done, everything I've accepted, and mostly how the fight ended, I will not accept any other fight other than a title shot."
"My only exception would be fighting Conor McGregor. At any time, anywhere, and since he is scared and knows that I'm gonna win... It doesn't even have to be title fight against him. You can keep my belt. What I want is to whoop your @$$. Again: any time, anywhere.
Dana White Lorenzo Fertitta, keep ur word. I still believe in the company that I work for. ‪#‎rematch‬" (sic).