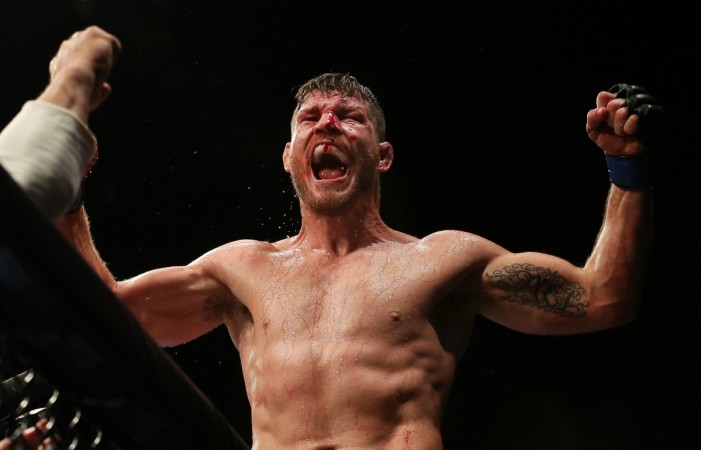 Newly-crowned UFC Middleweight Champion Michael Bisping is open for a super-fight with one of the greatest Mixed Martial Arts (MMA) fighters of all time, Georges St-Pierre. The 35-year-old St-Pierre, a three-time former UFC Welterweight champion, last fought inside the octagon at UFC 167 in November 2013.
The combat sports world is waiting with bated breath as to when GSP would finally make his return to the UFC. It was last heard that the St-Pierre, a decorated kyokushin karateka, was undergoing a six-week training camp following Thanksgiving Day 2015, to determine whether he is physically and mentally fit to return to the sport.
There has been no update ever since.
Bisping, for one, is ready to welcome the legend back to the octagon and face him in a non-title match that would turn out to be an instant cracker. "Fighting Georges St-Pierre [would be] great, and of course for the title for who has the most wins in UFC history. I mean, that alone is a fantastic tagline and great promotion," said Bisping to the MMA Hour, as quoted by Daily Star.
For the record, Bisping, 37, has 19 wins in his UFC career, the same as by GSP.
"And of course, the numbers would be fantastic with Georges St-Pierre, he's a massive, proven draw, and at the end of the day, we'll try to generate as much money as possible," continued the Englishman. "I do want to defend the belt, and I want to make as much money as I can in the process.
"So, I would certainly be open to sending Georges St-Pierre back to a movie set because that would be a fight I would definitely win and if Georges St-Pierre is listening, anytime you fancy it, just be a man and sign on the dotted line and your return will be short-lived," he added.
Meanwhile, another veteran of the octagon, Dan Henderson, has responded to Bisping's call for a title defence against him. "Absolutely [I'd be interested for the Bisping fight] I think that's probably a fight I definitely would do," Henderson, 45, was quoted as saying by Sherdog.
"That would by far be my last fight that I would do. That would kind of seal the deal. I don't want to do too many more fights at all, if any, but I would definitely would do that fight and make it my last fight for sure."
Bisping has been itching to fight Henderson since 2009, when the American fighter recorded a second round KO win over the Englishman at UFC 200.