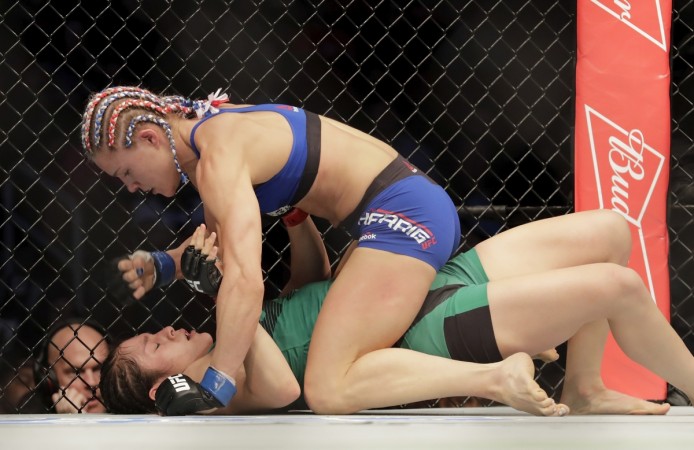 Felice Herrig is not a very well-known UFC fighter. The 33-year-old kickboxer from the United States competes in the strawweight division and has five fights under her belt, all Fight Night events. She is next slated to take on Cortney Casey at UFC 218 - her first pay-per-view appearance - on December 2.
Felice is not that well-known a woman strawweight fighter as compared to the likes of Paige VanZant, Michelle Waterson, Joanna Jedrzejczyk or even the new champion Rose Namajunas.
Felice, however, has gorgeous looks and is a social media star.
She took to Facebook on Tuesday, November 8, to post some training photos from her camp ahead of UFC 218. Felice has flaunted her bare chiseled back and posted some jaw-dropping photos of her taking shower in the locker room.
Needless to say, we are surprised!
We can't bet help realise that the latest trick deployed by Felice is some kind of a message she wants to give out to the UFC.
She has complained in the past about the mixed martial arts promotion not giving her the attention she deserves.
"Honestly, if you want to know the truth, I just feel like I'm not young and beautiful for the UFC to want to promote me," she had said following her UFC Fight Night win against Justine Kish in June this year.
"It's sad because I've really worked hard to be here. It's hard to see these people who've not been through what I've been through and just got to the UFC at the right time, and they're now getting all these opportunities.
"I'm not trying to make this like a point finger at the UFC or Dana White or anybody," Herrig said.
"I know they have a business to run. ... I'm not the only fighter who feels like this. ... We put a lot out there as fighters, and I don't know – I feel like I've paid my dues, and nobody can deny that.
"I'm a UFC fighter, and I've worked my way to the top, so I would like a little more love. That's it."
Felice Herrig has a 4-1 record in the UFC so far.