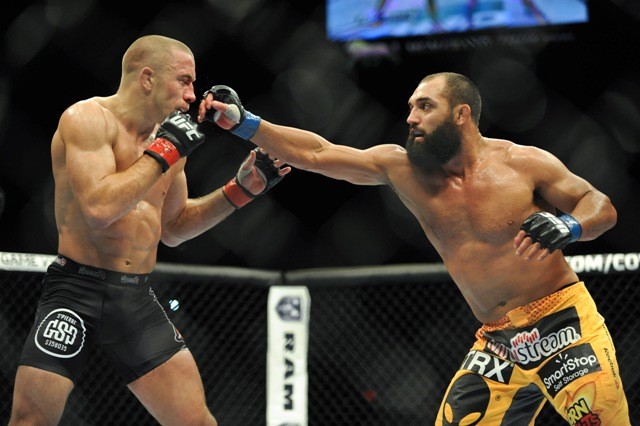 Johny Hendricks takes on Stephen Thompson in three rounds of gruelling battle at the UFC Fight Night 82, scheduled to be held at the MGM Grand Garden Arena in Las Vegas, Nevada, on Saturday night.
Hendricks is currently the No 2 ranked UFC Welterweight fighter in the world, while 'Wonderboy' Stephen Thompson, revered for his precision striking abilities, in the No 7 UFC Welterweight fighter.
The 'UFC Fight Night: Hendricks vs Thompson' is headlined by the Welterweight battle between these two most decorated fighters in the division. Johny Hendricks is known for his beautiful wrestling abilitites and the 32-year-old American fighter has the experience of fighting Welterweight great George St-Pierre in the past.
Hendricks became the Welterweight champion in 2014, beating current champion Robbie Lawler. However, he lost the title in a rematch after some months.
"It's not secrets: I want to win [on Saturday against Thompson]," Hendricks told MMAjunkie on Thursday. "Those aren't game plans. That's every fight plan that I have. Of course (Thompson) knows. I know what he wants to do. I know exactly what he needs to do. He needs to keep me at kicking distance. Kicking distance, kicking distance, kicking distance. It's mind games. It's all in fun."
Thompson, 32, has five wins from his previous five UFC fights, and three out of those five wins have come via KO/TKO.
UFC Fight Night: Hendricks vs Thompson schedule:
Date: 6 February, 2016.
Venue: MGM Grand Garden Arena, Las Vegas.
Time: 10 pm EST / 7 pm PST (8:30 am IST, 3 am GMT, 2 pm AEDT)
TV listings: Sony ESPN (India), Fox (US), RDS 2 (Canada), BT Sport 2 (UK), Combate (Brazil), Fox Sports Australia (Australia).
Main cards:
Johny Hendricks vs Stephen Thompson (Welterweight bout)
Roy Nelson vs Jared Rosholt (Heavyweight bout)
Ovince Saint Preux vs Rafael Cavalcante (Light Heavyweight bout)
Joseph Benavidez vs Zach Makovsky (Flyweight bout)
Misha Cirkunov vs Alex Nicholson (Light Heavyweight bout)
Mile Pyle vs Sean Spencer (Welterweight bout)