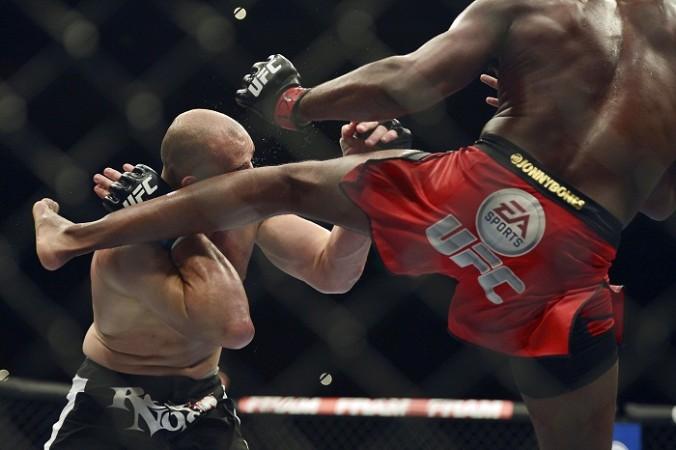 Former lightweight champion Benson Henderson is set to face Russian Rustam Khabilov in the main event of the Ultimate Fighting Championship (UFC) Fight Night 42 on Saturday night in Albuquerque, New Mexico.
The Dagestani-born Khabilov, who is not even in top-10, challenged Henderson on Twitter and the number one contender, surprisingly, accepted the challenge. A win in the main event will strengthen the bid for the title match against champion Anthony Pettis.
It is a golden opportunity for Henderson, who is nowhere close to get a title match, as he has been defeated by Pettis in previous two fights. He needs to put an impressive performance and show that he is a potential title threat and belongs in this competitive weight category.
The 30-year-old Henderson is heading as favourite, but the former champion is not taking Khabilov lightly. "Khabilov is tough," Henderson said. "I have to go out there and get my hand raised."
The rivalry between Henderson and Khabilov's famed trainer Greg Jackson has developed quite a bit, but the Colorado-born insisted there is no such rivalry and his gym, The MMA Lab, has previous success over Jackson's gym and holds advantage.
"There's not much of a rivalry," Henderson was quoted by USA TODAY. "Our gym, (The MMA Lab), against Greg Jackson's gym, I think we're like 7-0 against them. I'm 3-0, so we don't really see it as a rivalry."
Jackson said it is going to be a tough bout for Rustam and he can cause an upset if he put his best foot forward. He also stressed not to add unwanted pressure of a winless record against The MMA Lab, on his trainee ahead of a crucial fight.
"It will be Rustam's toughest fight for sure, and he's going to have his work cut out for him," Jackson said. "Rustam put together a good game plan, and if he puts together the right performance, I think we'll win. I'm looking forward to seeing where Rustam is in his run for the title."
Henderson had said that he and Khabilov have similar fighting techniques and the Russian agreed with his experienced opponent. Khabilov said, although, they have similar striking skills, but Henderson holds an advantage because of leg kicks.
"This is going to be a real fight," said Khabilov. "A badass fight, like a street fight. We have many similarities in our techniques. Both of us have good wrestling and striking skills, but he has an advantage in leg kicks. In general, I agree with him that we are similar fighters, so this fight should be fun."
UFC Fight Night 42 Fight Card:
Benson Henderson vs Rustam Khabilov
Diego Sanchez vs Ross Pearson
John Dodson vs John Moraga
Rafael dos Anjos vs Jason High
Yves Edwards vs Piotr Hallmann
Eric Perez vs Bryan Caraway
Yoatzin vs Sergio Pettis
Bobby Voalker vs Lance Benoist
Scott Jorgenson vs Danny Martinez
John Tuck vs Jake Lindsey
Patrick Cummins vs Roger Narvaez
Where to Watch Live
The fights are scheduled for a 7:30 am IST, 2:00 am GMT start and 10:00 pm ET start, with live coverage on FOX Sports 1 in the US and Sony SIX HD in India. The fights can be watched via live streaming option HERE, and can be live streamed by international viewers HERE, HERE, HERE, HERE, HERE or HERE.