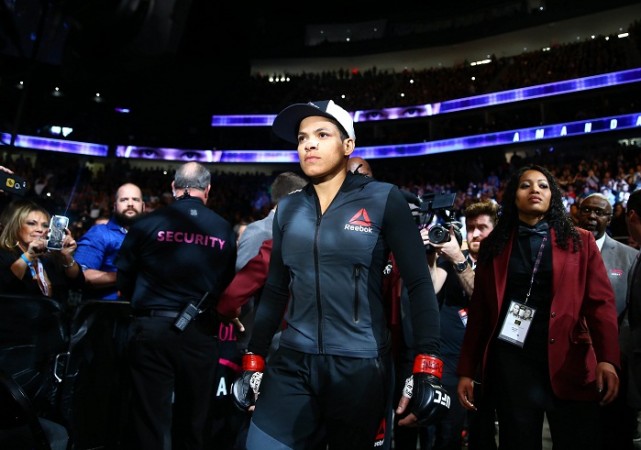 After Amanda Nunes completely dismantled Ronda Rousey at the UFC 207 in 48 seconds of the very first round, the UFC women's bantamweight champion is now looking to make history as she is targeting to become the first women to become the champion from two different weight categories just like Conor McGregor did last year.
Also read: Look who challenged Conor McGregor to a fight
"Honestly, I want to take a little time, enjoy it a little bit but I really look forward to this 145-pound belt. Maybe I'll go up to fight for the 145-pound belt. We'll see. Maybe I'm going to have two belts like Conor McGregor" NYpost.com quoted the UFC bantamweight champion as saying.
The UFC is set to introduce the women's featherweight division next month with former bantamweight champion Holly Holm set to take on Germaine De Randamie at UFC 208 for the title. Nunes defeated De Randamie way back in 2013 by knockout, so she will fancy her chances if she were to actually move to the featherweight division.
Before the Brazilian UFC star moves to the 145 pound weight class, she still has a lot of challenges left in her current division. Her potential opponent could include a rematch with Valentina Shevchenko who she defeated at UFC 196. She could also face Julianna Pena who won the Ultimate fighter and is still undefeated since signing with the UFC.
While the UFC will ultimately decide who Nunes will face in her next fight, she has set really high standards for women in the UFC. In 2016, Nunes defeated two future Hall of Famers in Ronda Rousey and Miesha Tate, and now it certainly looks like the Lioness is ready to make history again.
The Brazilian fighter also took a dig at Ronda Rousey's legacy in the UFC stating she was surprised that she got so far in the sport and said that she is highly overrated and that she had to train harder for her fight against Miesha Tate than against Rousey.
"I don't know how Ronda Rousey went this far in the division. Honestly, I don't know how those gals lost to Ronda Rousey. I know since my first fight in the UFC that I can beat Ronda Rousey. But of course, I had to take my time and wait for everything to come together. ... That day [at UFC 207] was the day I had to prove to everybody, and I did it".
"Actually, my camp for Miesha Tate was harder than it was training for Ronda Rousey. Yes, [she's overrated], for sure. UFC make this happen ... but I know that I could beat Ronda Rousey since I saw her first fight" she was quoted as saying.