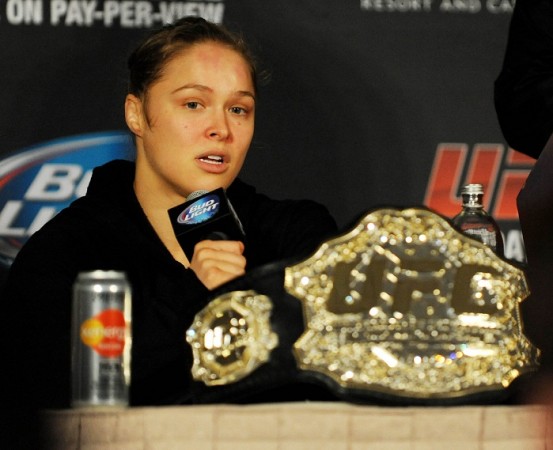 Ronda Rousey continued her media blackout at the UFC 207 weigh-in as the former champion weighed-in at exactly 135lbs. The former UFC bantamweight champion has been avoiding the media ever since she lost her title to Holly Holm at UFC 193.
Defending UFC bantamweight champion Amanda Nunes came out sporting a lion mask during the weigh-in, in reference to her nickname 'The Lioness,' as she also weighed-in at exactly 135lbs.
Also read: UFC 207 complete fight card
Following the weigh-in both of them had a quick stare down and the Ronda just walked off the stage at the T-Mobile Arena without addressing her fans or stopping for questions from the media.
"I don't care how this pay-per-view does. I don't care how much money I make. I don't care about interviews and I don't care how I look. All I care about is winning my belt back on Friday night and that's it," Ronda Rousey said in brief video posted by TMZ.
Since her loss at UFC 193 Rousey took more than a year off to get her head back into the game and now she looks fitter and healthier than ever and is determined to win her coveted title back.
In a recent interview Amanda Nunes said that she was baffled with that fact that Rousey has been ignoring the media, but said its good for her as she gets to focus on her training more.
"I don't know what is wrong with this girl, I'm gonna be honest with you. But if she wants to play this game, she's playing with the wrong person. I'm very focused and I know how I'm gonna stop her. It's good for me. I don't like to do a lot of interviews. I like to train and then step in the cage and do my job. This is the thing that I like to do. I'm okay. It's good for me Ronda Rousey's not doing anything. I can rest and focus on my training and losing weight and that's it," mmafighting.com quoted Nunes as saying.
In the other weigh-in between Dominick Cruz and Cody Garbrandt, UFC President Dana White had to come in between them as the duo were almost about to start a brawl in the middle of their weigh-in. The scuffle ended with Cruz being moved all the way to the other end of the stage to avoid any more altercations.
"Honestly, I don't know why he's so mad. I like the guy. He looks like a win on my record. That's it. He's another win on my record. I'm going to walk away with my third title this year. I'm excited for the matchup. He's going to be swinging at air all night, baby," foxsports.com quoted Cruz as saying.
Check out the video of Dominick Cruz and Cody Garbrandt being separated at the weigh-in.