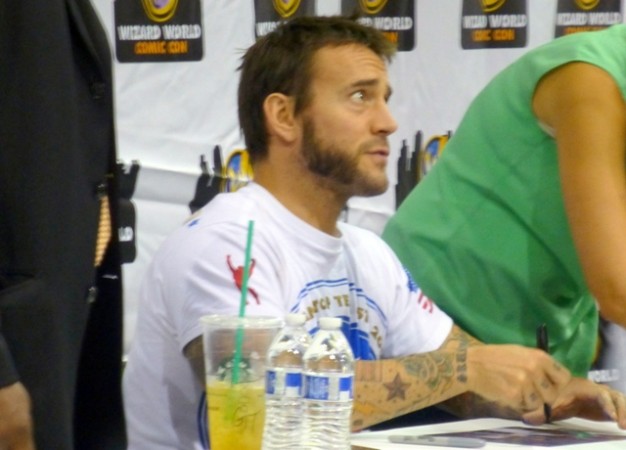 Former WWE champion and one of the most decorated pro wrestlers of all time, Phil Brooks aka CM Punk will be making his much-awaited debut in the UFC in September 2016. The MMA promotion announced on Thursday that Punk, 37, will be taking on Mickey Gall in a welterweight bout at UFC 203.
The fight has been long time in the making after Gall, 24, requested UFC President Dana White to award him the fight with the veteran pro wrestler inside the octagon, back in February 2016. Gall had earned a first round submission victory against Mike Jackson in the UFC Fight Night event.
Punk himself stepped inside the octagon following the end of the fight and shook hands with Gall, accepting the fight straightaway.
The former WWE superstar signed with the UFC in December 2014 following a fallout with the pro wrestling company and the move created an instant buzz. Punk was expected to make his UFC debut in the middle of 2015 itself but a series of injuries made him keep postponing the fight. He has been training for his octagon debut for over a year with with Duke Roufus in Milwaukee.
"I think there's probably something seriously wrong with me," MMA Fighting quoted Punk as saying on being asked why he entered the world of MMA at this stage of his career. "Everyone is trying to figure out why I would want to do this. I'm a guy who gets bored easily and I have goals and there's things in life I enjoy. It's not about the destination; it's about the journey," he added.
Gall is known for his jiu-jitsu skills and the New Jersey fighter already has a 2-0-0 record in the MMA. Punk on the other hand, hasn't fought in the MMA before and also doesn't boast of a great martial arts experience. He has been occasionally seen training BJJ (Brazilian jiu-jitsu) with Rener Gracie.
UFC 203, scheduled for Sept. 10, features a heavyweight championship match between the champion Stipe Miocic and the experienced Alistair Overeem in Cleveland, Ohio.