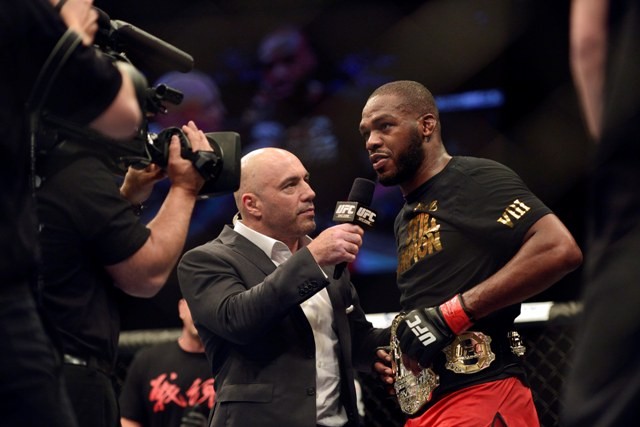 Mixed Martial Arts fans, UFC fighters, Daniel Cormier and even UFC President Dana White got a major blow late Wednesday night as it was announced that Jon Jones, who was scheduled to headline UFC 200, has been removed from the fight card. The announcement came just three days prior to the landmark UFC pay-per-view event.
Jones was immediately suspended after UFC officials learnt from the US Anti-Doping Agency (USADA) that the former UFC light heavyweight champion had violated a potential Anti-Doping Policy. The 28-year-old American fighter tested positive in an out-of-competition sample collection done by the United States Anti-Doping Agency on June 16.
As a result, Jones' much awaited rematch with champion Daniel Cormier for the title stood cancelled for now and the three-round heavyweight bout between Brock Lesnar and Mark Hunt stands the new main event at UFC 200.
Jones was set to fight Cormier for the title at UFC 197 earlier this year, but even that fight didn't see the light of the day as Cormier had to pull out owing to an injury. And now when everything seemed to be in place, comes this major blow that could see Jones facing a two-year suspension.
"I don't know [about when the rematch will finally take place now]. We'll see how this thing goes down. Jones might get two years for this. We'll see," White was quoted as saying by Fox Sports.
"This is the way it [strict action against drug violation] should be. We have the best program in all of sports. It's the way it should be," White continued. "Obviously, I was at dinner when I got the call and I literally like 'Jesus Christ, I must have jinxed myself' cause I kept going 'everything is going so smooth' and nobody had been hurt."
"Everybody was healthy so this was a pretty brutal phone call," he added. "These types of things are going to happen and it could have been a lot worse."
UFC Middleweight champion Michael Bisping, meanwhile, has said he is ready to take on Daniel Cormier in the UFC 200 card in a champion vs champion fight. Will that get a green signal from White? That remains to be seen for now.
2 months, 2 weeks, 2 days...... Hmmm middle vs light heavy???? I stand by my words. I'd do it! [sic]" - Michael Bisping on Twitter.