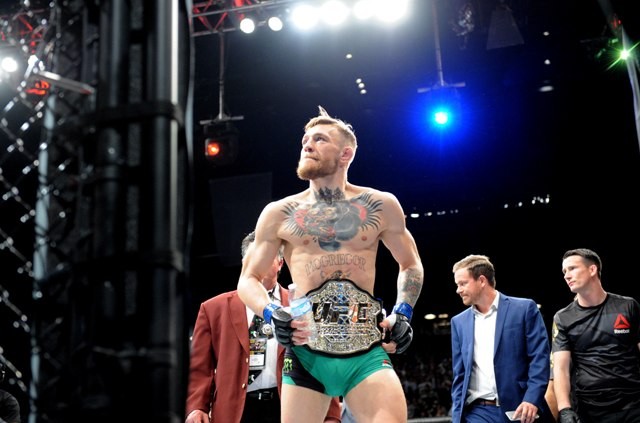 UFC Featherweight champion Conor McGregor has been in a situation earlier when a title fight headlining him was called off in the last minute. The Irishman was scheduled to face Jose Aldo in UFC 189, but Aldo's injury forced Dana White to find another opponent for McGregor.
The same thing has happened once again Tuesday. McGregor was eyeing history as he was scheduled to face Rafael dos Anjos for the Lightweight bout in the main event of UFC 196, but a last-minute "broken foot" forced the Brazilian to opt out of the match.
UFC president Dana White announced later that Nate Diaz has been zeroed in as the opponent for McGregor at UFC 196 and the fight will be a non-title Welterweight bout -- two weight classes higher than the Featherweight division.
While MMA fans may feel that fighting two weight divisions up will not be a great deal of a problem for the confident Conor McGregor, Dana White revealed that former pound-for-pound king Jose Aldo was contacted to replace Dos Anjos in the main event but the Brazilian Featherweight fighter refused to fight against McGregor.
UFC Featherweight fighter Frankie Edgar, ranked no. 2, also turned down the fight.
"We called Jose Aldo; Jose Aldo turned the fight down," White was quoted by ESPN. "We called Frankie Edgar; Frankie Edgar turned the fight down. Those are two guys everybody was talking about.
"A lot of guys wanted this fight, but we ended up with Nate Diaz. We felt this was the fight to make and the fight the fans wanted to see."
Nate Diaz, the younger brother of one of the most decorated UFC fighters Nick Diaz, comes into the fight at the back of a win Michael Johnson last December. Moments after White announced the new main event of UFC 196, Diaz took a jibe on McGregor on twitter, "He's going to have to get on his knees and beg... (sic)".
While the main event of UFC 196 will feature the highly-anticipated clash between Conor McGregor and Nate Diaz in a non-title match, the co-main event will see the UFC Women's Bantamweight Champion Holly Holm go into her first title defense against Miesha Tate.
UFC 196 is scheduled for March 5 in Las Vegas, Nevada.