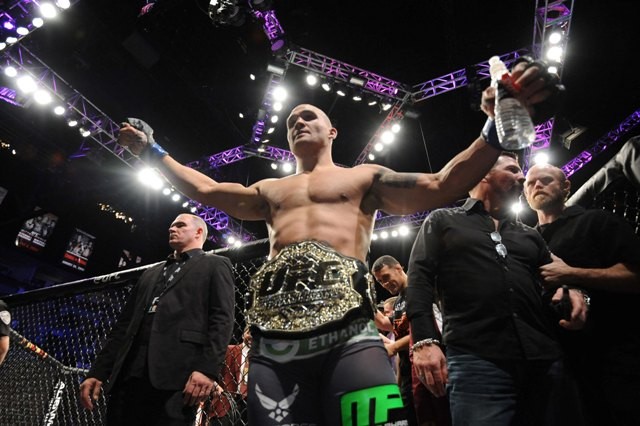 UFC Welterweight champion of the world Robbie Lawler takes on Carlos Condit in the first PPV of the calendar year on Saturday, 2 January.
The MGM Grand Garden Arena in Las Vegas, which hosted the final UFC PPV of the calendar year 2015 -- UFC 194, is set to be the first venue as well for the first UFC event of 2016.
The first main event of the year is expected to be nothing but ruthless. Both Lawler and Condit are exceptional fighters in the octagon, and they are set to heat up the venue on the fight night.
The "Ruthless" Robbie Lawler goes into his second title defense on Saturday; the 33-year-old American fighter, who is known for his devastating striking acumen, won the Welterweight title after defeating Johny Hendricks at UFC 181 in December 2014.
He then went on to beat Rory MacDonald for his first title defense in UFC 189, and bagged a fifth-round TKO win.
Currently 26-10-0 in his MMA career, Lawler looks keen to start the year with a bang. "I know it's going to be a great fight [on Saturday], and it has been one of the best training camps I've ever put in," the 33-year-old told IBTimes India. "And I can't wait to showcase my skills and go out there, and showcase why I'm the best fighter in the world."
"The Natural Born Killer" Condit, meanwhile, has a huge repertoire of brilliant jiu-jitsu kills. The 31-year-old comes into the fight with a 30-8-0 record in MMA, and his latest win was against Thiago Alves in May 2015.
He is concerned on nothing but putting up a brave fight on Saturday. "I feel good," Condit was quoted by the Las Vegas Review-Journal. "I'm calm, poised, confident. I'm just ready to fight."
UFC 195: Lawler vs Condit schedule:
Date: 2 January, 2015.
Venue: MGM Grand Garden Arena, Las Vegas.
TIme: 10 pm EST / 7 pm PST (8:30 am IST, 3 am GMT, 2 pm AEDT)
TV listings: Sony Kix, Sony Six HD (India), PayPerView (US, Canada), BT Sport 2 (UK, Ireland), Combate (Brazil), Main Event (Australia).
Main cards:
Robbie Lawler vs Carlos Condit (Welterweight title bout)
Stipe Miocic vs Andrei Arlovski
Lorenz Larkin vs Albert Tumenov
Diego Brandao vs Brian Ortega
Abel Trujillo vs Tony Sims